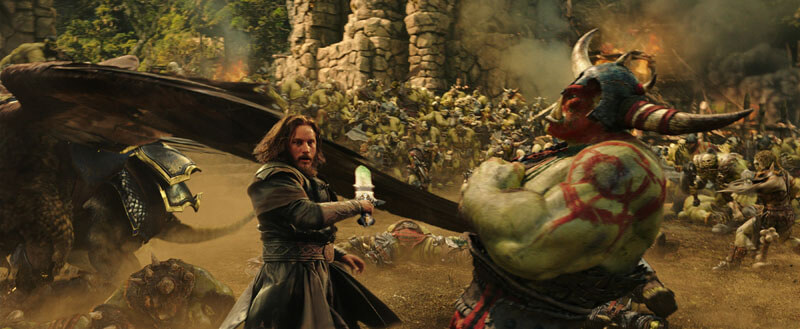 English translation further down.
(Detta är ett sponsrat inlägg men åsikterna är mina egna…)
Blizzards världsberömda RPG spel Warcraft är snart på väg att slå biograferna. Jag minns när jag var mycket yngre än vad jag är idag hur jag och min vän brukade älska att spela detta spel, det var en missbrukarspel med timmars av spel varje dag. Jag trodde aldrig att jag skulle se en film göras av spelet, jag kunde säkert föreställa mig en och jag gjorde nog, men aldrig trott att någon faktiskt skulle föra den till den stora skärmen. Men det talar bara om att ingenting är omöjligt, nuförtiden kan man göra film av vad som helst… det svåra och viktigaste är att göra en bra. Warcraft har all potential att bli en bra film, en djup story, underbara och intressanta karaktärer, fantastiska specialeffekter och en bra regissör som Duncan Jones, har han gjort filmer som MOON och SOURCE CODE, 2 riktigt bra filmer. Dessutom påminner den här trailern mig en hel del av Sagan om Ringen filmerna, så många likheter och vem kan argumentera emot att de förmodligen är en av de bästa filmerna som någonsin gjorts? Så … ja denna film har varje potential att bli episk.
Jag kan knappt bärga mig för att se denna film, kolla in den senaste trailern för Warcraft: The Beginning nedan ;)

(This is a sponsored post but opinions are my own …)
Blizzards worldwide famously RPG game WARCRAFT is soon about to hit the cinemas.
I Remember when I was way younger than I am today how me and my friend used to love playing this game, it was such an addict game with hours of game playing a day. I never thought I would see a movie being made of it, I could imagine one and I probably did, but never believed someone could actually bring it to the big screen. But that just tells me that nothing is impossible, you can now days make a movie of anything… the hard thing is to make a good one. Warcraft has every potential to be a great movie, a deep story, wonderful and interesting characters, awesome special effects and a good director like Duncan Jones, he has made movies like Moon and Source Code, 2 great movies. Also, this trailer reminds me a lot of The Lord of The Ring movies, so many similarities and who can argue against that they probably are one of the best movies ever made? So… yes this movie has every potential to be epic.
I can't wait to see it soon, check out the latest trailer for WARCRAFT: THE BEGINNING above!