Ines Helene is an Swedish model and a digital influencer with one of the fastest growing accounts on Instagram today. She recently past 1 million followers on her Instagram and that number just keeps getting higher and higher. She was born in Bosnia in 1992, and she's mostly known as "The Swedish Unicorn" to her fans. She has been making guys and girls crazy with her "Belfies". But is there another part of this young woman worth knowing about?
I had the privilege to interview her, and I wanted to focus on asking her more movie-related questions… cause thats what this site is about and also because we want to know of curse! Read the full interview below, you don't want to miss it!
Well first of all, Hi Ines. Thank you for sharing your time with us.
Hello Philippe, No problem =) ask on!
Nice, ok here we go. First question…
As a child I used to wake up very early and almost directly put me in the living room and watch television… Did you often watch film or television when you were little?
Yeah, I was always up at 6 to watch the Swedish television show "Bolibompa". I loved it!
Did you have some favorite cartoons, which ones did you like?
Uh, I loved Dexter, The Smurfs (Only because I LOVED Gargamel), Pokemon and Digimond. I used to love the villains.
I remember that the first movie I cried on was a cartoon, on The Lion King (saw it at the cinemas) when (Spoiler Alert!) Simba's father died. What was the first movie you cried to?
Haha, mine was probably Bambi, or "The Land Before Time" which was about an orphaned dinosaur who lost his mom. And I remember being very upset when Ursula died in "The little mermaid"
Have you cried to some other movies? Are you a sensitive person?
I am pretty emotional, and I tear up when I watch a moving movie quite often.
What do you think about today's Superhero Movies? The genre has become more and more popular and seem to be the modern age of Blockbusters… Have you seen any of these and do you like them? Which is the favorite?
I really love them. I love Science Fiction. Especially The X-men series and the Dark Knight!
Television-Series is something that also has become very popular and very well-made, are there any series that you are following now?
The question should be "What series do you NOT follow?" My absolute favorite series right now are Homeland, House of Cards, Game of Thrones, Better Call Saul.
Do you have any favorite television series since before?
The Wire, OZ, Seinfeld, Breaking Bad
If you would have the opportunity to meet with any movie celebrity, who and why would you choose he or she?
Anthony Hopkins – because he is Anthony Hopkins. If it doesn't have to be a living person, it would be Greta Garbo, because I have read a lot about her and her life was somewhat dark but very interesting.
If you got to make your own movie, what would it be called and what would it be about?
It would probably be dark and heavy. I would make a movie about myself and my family's struggle from Yugoslavia to Sweden. Title..?"
Do you have one or some favorite actors? What is their best performance in a movie in your opinion?
I love Marlon Brando always. His work speaks for itself, but my favorites are On the Waterfront and A streetcar named Desire. Ralph Fiennes. I loved him as Voldemort to Schindler's List and In Bruges.
One or some favorite directors, perhaps?
Stanley Kubrick, Martin Scorcese, Tarantino..
You are a very beautiful women, and people might think that's all you are, but the appearance on the outside does not always determine who you are within, how would you describe yourself as a person?
I would say I'm a pretty easygoing and goofy person. When I asked my sister to describe me she used: "honest, kind" so I am happy with that.
Do you have any hidden talents we can't see via your photos? For example, Are you good at singing, drawing, cooking, act, write … Well anything? :p
I write sometimes. Novels, poetry. (I am planning to share some of it on my website, which should come out soon. There has been some delays) I love cooking and baking: I think I'm pretty good. No one has died anyway.
I wish I could sing, but I'm completely tone deaf, haha.
What do you like to do when you're not taking pictures for your Instagram?
My different moods vary from calm to extremely spontaneous. Mostly I prefer to go to the gym, spend time with friends and family, watch series, wine and dine.. But then again, I went skydiving in Barcelona just as an impulse, if I feel particurlarly bored, I might book a plane ticket the same day and leave in the evening..
You've probably heard this question many times before… Are you single? And what should a man think of to get your attention?
I am currently single yes. I like honest, thoughtful guys who are intellectual with a sense of humor.
If this man shows up tomorrow with everything you wished he would be, but had a really, really bad movie taste… would you still like to keep him?
I've put up with way worse than bad movie tastes.. Haha..
You're 23 years "young" right now and have your whole life ahead of you, what does your future look like, what are your plans?
As of now, I'm working on my secret project with a secret product, I will be working actively with a refugee project as well together with one of my friends, I'm working with companies who want to sponsor and advertise through my Social Media… I have a few other interviews/articles coming out. I have so many ideas and the possibilites are endless..
7 Quick ones!
Jennifer Lawrence or Jennifer Aniston? Lawrence
Braveheart or Gladiator? I guess Braveheart
Friends or Sex & the City? Friends
The Notebook or Ps. I love You? Reluctantly, The Notebook
Brad Pitt or Tom Cruise? Brad Pitt
Catwoman or Wonder Woman? Wonder Woman
Horror or Romance? Romance 
My last question Ines, name the three of your best movies you've ever seen. 
Schindler's List, Harry Potter series, The Godfather

Now choose one of the three… What makes this one the best?
Harry Potter. Simply because me, and probably many others grew up to these movies, and when I watch them, I just have warm and pleasant memories.
Ines Helene… Thank you so much for your time, really sweet of you. I wish you all the best!
Thank you Philippe, it was my pleasure =) it was a really fun interview!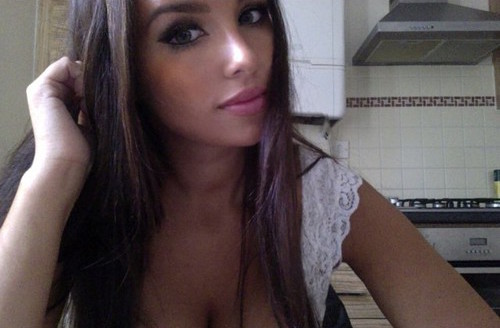 Be sure to check out her Instagram, thanks again Ines!