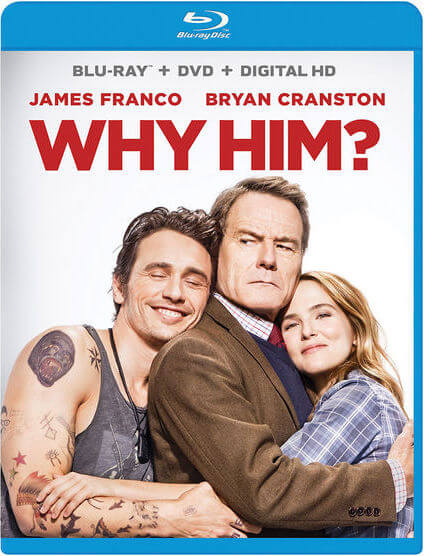 WHY HIM (2016) Blu-ray
Director: John Hamburg
Actors: Zoey Deutch,  James Franco,  Tangie Ambrose
Comedy/ 111 minutes.
Distributor: 20th Century Fox
Out on Bluray and Dvd now, you can order it here!
Over the holidays, Ned, an overprotective but loving dad and his family visit his daughter at Stanford, where he meets his biggest nightmare: her well-meaning but socially awkward Silicon Valley millionaire boyfriend, Laird. The rivalry develops,and Ned's panic level goes through the roof when he finds himself lost in this glamorous high-tech world and learns that Laird is about to pop the question.
This is very average movie and quite predictable… The movie does have some funny moments which is good and enjoyable but it's James Franco that shines here, this man has proven that he can do any type of character. Now if you just want to watch a movie with someone or a group of people, this movie isn't a bad choice. WHY HIM isn't hilarious, but it wasn't horrible either,  it's somewhere in-between.
RATING: 5/10
Extras:

Why Him? Gag Reel
47 Minutes on the Can
Why Gustav?
Barb Fleming: America's Mom
Lou The Entertainer
Richard Blais: Twisted Chef
Deleted Scenes
Gallery
Audio Commentary by John Hamburg (Director/Co-Writer), Ian Helfer (Co-Writer) and William Kerr (Editor)