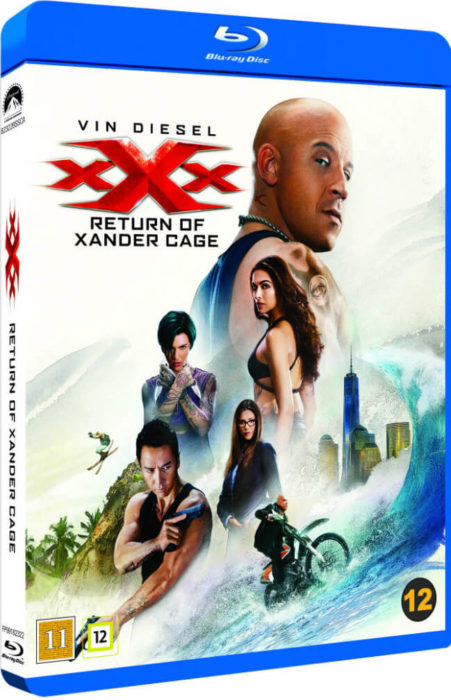 xXx: Return of Xander Cage (2017) Blu-ray
Director: D.J. Caruso
Actors: Vin Diesel, Donnie Yen, Deepika Padukone
Action/Adventure, 107 minutes.
Distributor: Paramount Pictures
Out on Bluray and Dvd now, you can order it here!
"Extreme athlete turned government operative Xander Cage (Vin Diesel) comes out of self-imposed exile, thought to be long dead, and is set on a collision course with deadly alpha warrior Xiang (Donnie Yen) and his team in a race to recover a sinister and seemingly unstoppable weapon known as Pandora's Box. Recruiting an all-new group of thrill-seeking cohorts, Xander finds himself enmeshed in a deadly conspiracy that points to collusion at the highest levels of world governments."
I didn't expect much of xXx: Return of Xander Cage because I wasn't a fan of the previous movies to begin with. But Vin Diesel disappoints me… I thought he would have done better now that he has grown as an actor and a producer… he knows more about movies these days than before. There were a lot of flaws in this movie, and sometimes you can get pass that with having a good story but it missed that too. Diesel was pale, slow and uncharismatic and delivered only a few good action-scenes and nothing else. The big star in this movie in my eyes was Donnie Yen, who I've been following for several years in the asian movie industry. He was what made this movie watchable for me. He is so cool and his martial arts skills are awesome! But even he couldn't save the movie that much unfortunately.
If you liked the previous movies you may find something here to enjoy, or if you are a big fan of donnie yen as me. Otherwise I'm pretty sure this one is not for you.
No special features either.