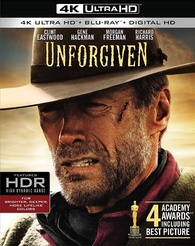 UNFORGIVEN (1992) 4K UHD
Director: Clint Eastwood
Actors: Clint Eastwood,  Gene Hackman,  Morgan Freeman
Drama/Western, 131 minutes.
Distributor: Warner Bros
Out on 4K UHD, Bluray and Dvd now, you can order it here!
"The film is set in 1880 and 1881 in Big Whiskey, Wyoming, where Little Bill Daggett (Gene Hackman), the local sheriff and former gunfighter, does not allow guns or criminals in his town. Two cowboys, Quick Mike and "Davey-Boy" Bunting, disfigure prostitute Delilah Fitzgerald after she laughs at the small size of Quick Mike's penis. As punishment for the cowboys, Little Bill allows them to pay compensation to the brothel owner, Skinny Dubois. The rest of the prostitutes, led by Strawberry Alice, are infuriated by this leniency and offer a $1,000 reward to whoever can kill the cowboys. Bill Munny (Clint Eastwood), A hired assassin, a remorseless killer, a dedicated family man hung up his gun a long time ago, but with his wife now dead and his kids nearly grown, he agrees to this one last job."
A beautifully made western from Clint Eastwood with Clint Eastwood, what more can you ask for!? Well for Gene Hackman to star as a villain outshining Clint a bit? Yes you can ask that, and you get it here… For Morgan Freeman to star side along Clint? Yes, and that too is also included… Well, this movie has a very good cast, and Gene Hackman really made a great performance here. He even won an oscar for best supporting actor, yes he was that good.
But Unforgiven succeeds i many ways, it has a compassionate story even though its slow paced, it has an awesome cast, a wonderful cinematography…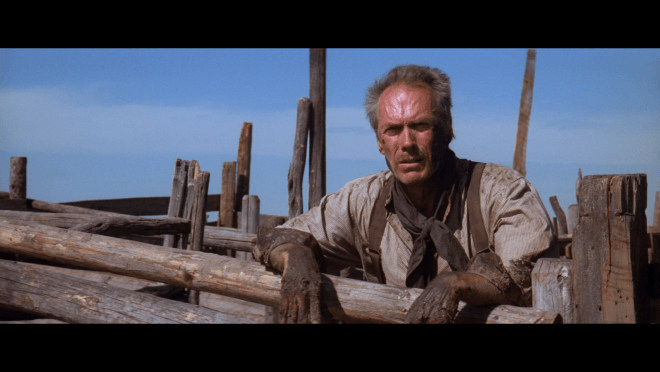 One of the best western movies ever made for sure (in my taste anyway), has gotten a 25th special 4K UHD release, and it's awesome! I've seen it a few times before in my life and it never seems to get old, I've seen it in VHS, Dvd and Bluray, but I really wanted to see if a movie from 1992 could get a facelift with 4K UHD, and you know what? It actually can!
The best feature is a brand-new DTS-HD Master Audio 5.1 soundtrack, which is simply phenomenal and absolutely the best part of the whole package. Great sound here!
The 2160p video is noticeably sharper than its Blu-ray counterparts, viewers can better make out the tiniest stitch, wrinkle and the fabric of the costumes while hairs both in the cast and animals are incredibly detailed! The colors also feels more stronger and wider… an upgrade in almost every aspect, and that's very much appreciated. However, it seems like the black levels here hasn't been touched at all, they remain the same as previous releases, still quite good and deep but could have been better with this release. Overall a great improvement though. Unforgiven is a movie that you definitely can't miss. If you're a fan of high-intensity dramas or westerns, this one's for you!
RATING: 8/10
Other than the UHD Blu-ray with HDR10, there are no exclusive features on this release.
Extras:

Includes Remastered Blu-ray disc
Commentary by Eastwood Biographer Richard Schickel
4 Documentaries
Classic Maverick Episode Duel at Sundown
Theatrical Trailer
4K and Bluray Comparisons.
The biggest difference between 4K Ultra HD and traditional Blu-ray is that the former supports resolutions up to 3840 x 2160 (4K), while the latter caps out at 1920 x 1080 (1080p). 4K is four times better than Blu ray. HDR is also available in 4K UHD… HDR expands the range of both contrast and color significantly. Bright parts of the image can get much brighter, so the image seems to have more "depth." Colors get expanded to show more bright blues, greens, reds and everything in between.
Thank you so much Warner Bros for the copy!