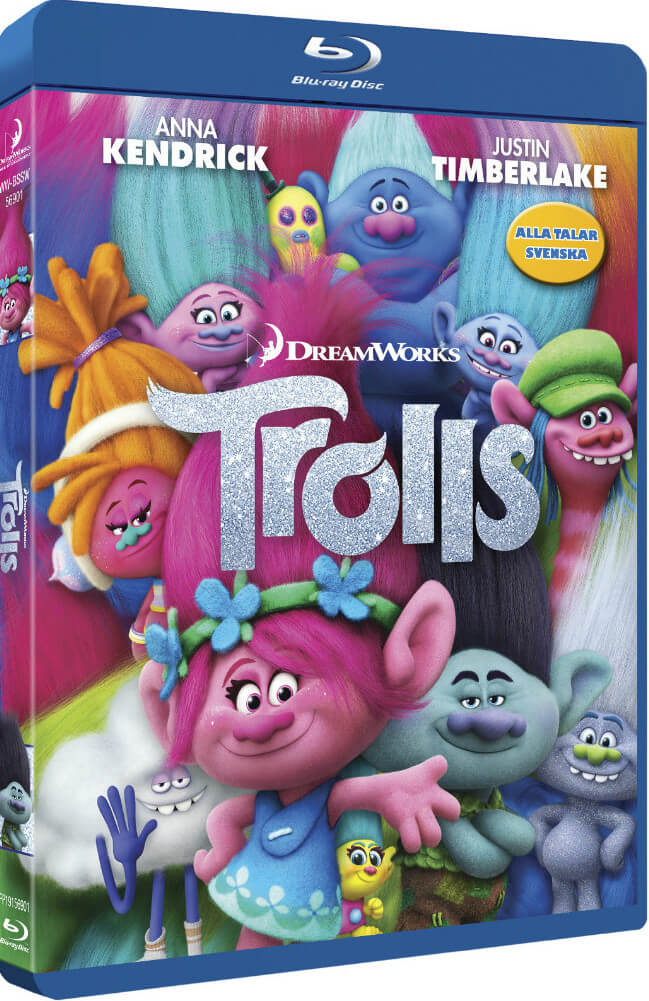 TROLLS (2016) Blu-ray
Directors: Walt Dohrn,  Mike Mitchell
Actors: Anna Kendrick,  Justin Timberlake,  Zooey Deschanel
Animation/Adventure,  92 minutes.
Distributor: 20th Century Fox
Out on Bluray and Dvd now, you can order it here!
"Once upon a time there was a race of teeny-tiny super-cute trolls whose entire existence revolved around singing, dancing and group hugs performed on the hour. Unfortunately, their joyful existence is interrupted once every year by their sourpuss nemesis neighbors known as the Bergens, a warty tribe of giants with lousy posture, wonky teeth and bad attitudes whose town seems bedecked in what only could be called sewage chic.
We get to follow the trolls Poppy (Anna Kendrick) and Branch (Justin Timberlake) who is in search of their friends that were kidnapped by the Bergens in their last attempt…"
Wow, what a joyful, musical adventure this movie was, it had so good music in it and it gave such a great feeling afterwords! I can see why they wanted Anna Kendrick and Justin Timberlake to be in this movie, they nailed the music in it! The Story was very simpel but had a nice tone and it still managed to have a very good message in the end. I absolutely enjoy watching TROLLS… so much that I'm even listening to the soundtrack in Spotify right now while writing this review. I've seen it twice now, first in english then in Swedish and I have to say that the swedes did a fenomenal job in translating it… for you that may want to see it in Swedish (have a lot of Swedish followers) you won't be disappointed.
If you love musicals and animations this is a perfect movie to enjoy together with your kids and family.
RATING: 8/10
Extras:

Travel through Troll Village
Creating Troll magic
Deleted scenes
And more!