THE INTERN (2015)
Director: Nancy Meyers
Actors: Robert De Niro,  Anne Hathaway,  Rene Russo
Comedy/ 121 minutes.
Distributor: Warner Bros
Out on Bluray and Dvd now, you can order it here!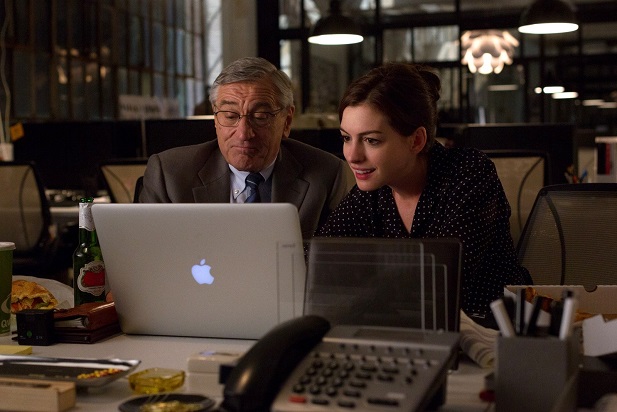 "70-year-old widower Ben Whittaker has discovered that retirement isn't all it's cracked up to be. Seizing an opportunity to get back in the game, he becomes a senior intern at an online fashion site, founded and run by Jules Ostin."
Robert De Niro has done a lot of comedies lately and the genre actually fits him quite good but we all know he can be tough too and there is where his characters really bloss out.
But, this was one of his more beloved comedy characters, he does his acting as "Ben the intern" so lovable… it's a sweet movie that everyone can enjoy, I surely did.
Anne Hathaway knows this type of movies from head to toe so I already knew she was going to do a great job too.
Yes I can recommend THE INTERN ;) a heartwarming movie!
RATING: 7/10
Picture: 8
Sound: 7
Extras:

LEARNING FROM EXPERIENCE: Director Nancy Meyers and the cast discuss bridging the "generation gap" in a humorous way
DESIGNS ON LIFE: Learn about the film'srunway-ready looks and eye-popping interior design
THE THREE INTERNS: An exclusive interview with Comedy Central fan faves Adam DeVine, Zack Pearlman and newcomer Jason Orley