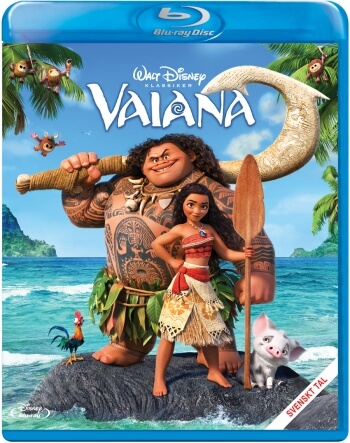 MOANA (2016) Blu-ray
Director: Ron Clements, Don Hall
Actors:  Auli'i Cravalho,  Dwayne Johnson,  Rachel House
Animation/Adventure, 107 minutes.
Distributor: Walt Disney
Out on Bluray and Dvd now, you can order it here!
I'm just going to start immediately with what I thought about the movie… it was Fantastic! I don't know how Disney does it, almost every time they release a new animated movie they seem to amaze me again and again…. and Moana/Vaiana (as it is called here in Sweden) was no exception at all. It was so beautiful to watch in every single aspect, the cinematography, the characters, the story, the soundtrack… yes everything was really, really good! I watch it with my wife and 2 kids and we all enjoyed it in different levels, my kids saw it as a fantastic adventure movie while me and my wife saw it more as a movie about Life and Family connections, it truly had elements for both younger and older viewers is what I'm trying to say. What I do wish it would have had more of were some big villains that I was expecting to see after they narrated the movie in the beginning… like Disneys Hercules had in his movie. And also maybe a more important side character… felt like the chicken that was with Moana really didn't do that much, but thats just a tiny thing compare with what Moana actually delivers. I saw both the English and Swedish version of the movie and I loved them both! But if I had to choose one of them I may have preferred the English version only because Dwayne Johnson "The Rock" is voicing one of the main characters and I just love the man. Who doesn't like The Rock!? He has such a charming personality and he mirrors that directly into his character Maui.
Moana is one of the best Disney movies lately and its a movie for the whole family to enjoy, so… you don't want to miss it!
Rating: 9/10
The extras this movie has is very fun and interesting to watch AND THERE WAS A TON OF THEM so as soon the movie is over I strongly recommend you see that too!