GUITAR HERO LIVE
Developer: FreeStyle Games
Distributor: Activision
Out on Ps4, Xbox One, Wii U, PS3, Xbox 360, iOS, Android and tvOS, you can order it here!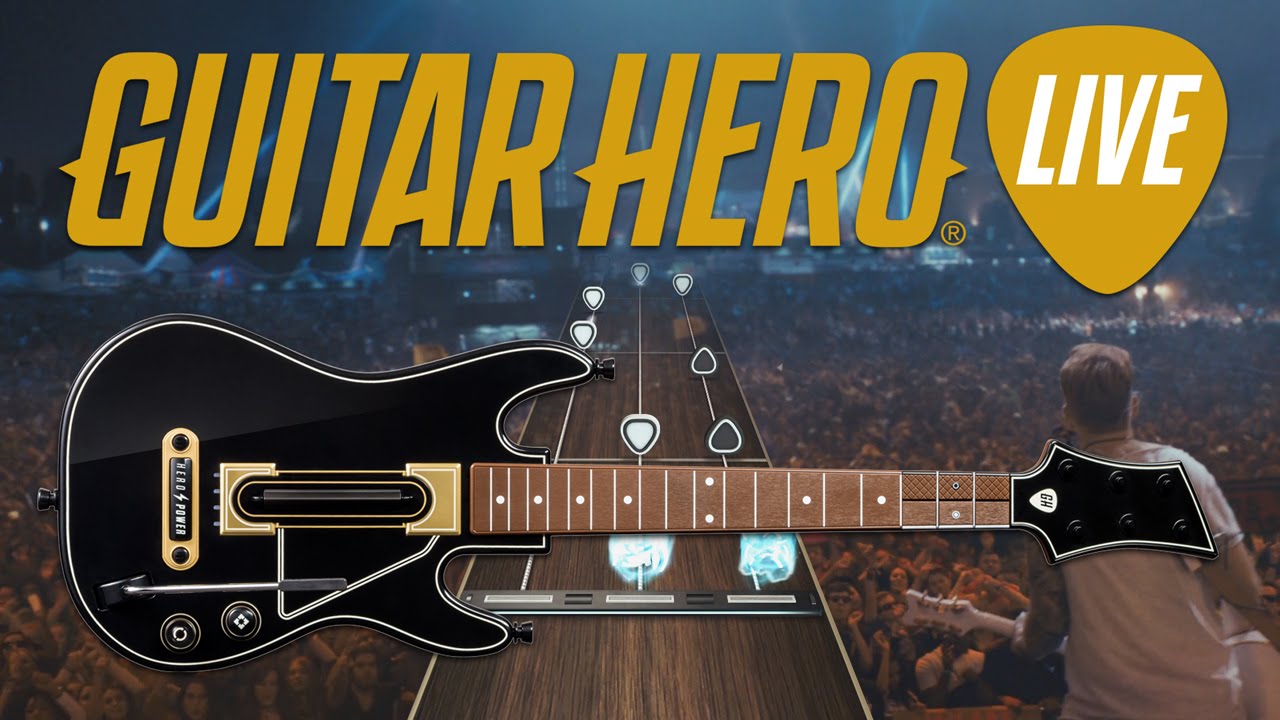 Guitar Hero Live is finally here, but will it make you feel like a rockstar or just a skilled player?
Well the first thing we have to mention is that the guitar is completely renewed (as you can see in the pic above), it now has all the buttons at the end of the guitar and there is 6 of them. This is good news because it actually feels much better, it feels so much more natural and if you learn it right, you can handle all the 6 buttons with just 3 fingers. It doesn't take much time to get used to the new guitar, the learning curve is kind of easy and after a few songs played you are going to feel comfortable with it. The game starts with a small tutorial so the new controls will be explained, don't worry about that.
There are 2 ways to play Guitar Hero Live.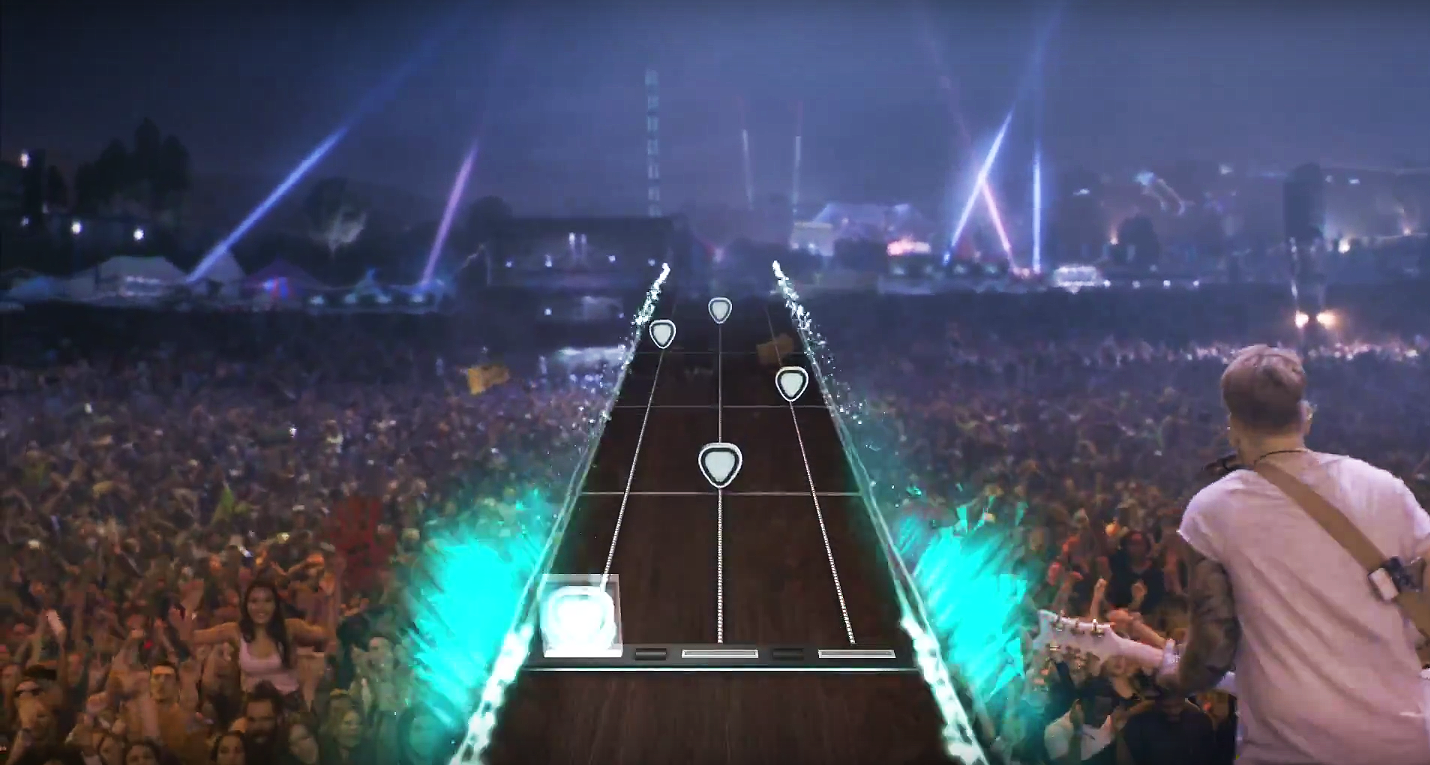 One is for an audience and the audience you play for is now a "live" audience, real people in the game and not some graphic characters that looks like some kid created. You start playing from the bottom, in small local clubs struggling to make it to the top and to the big fancy arenas, making a career of it is your goal. You will advance in the game depending on how good you play of curse, if you do well the audience will love you and you will get more points, you do bad and they will boo you out and the more they do… well less points you get and that could make you loose your place in the band, in other words you will earn and open songs by finishing your live performances playing it to the end of the show.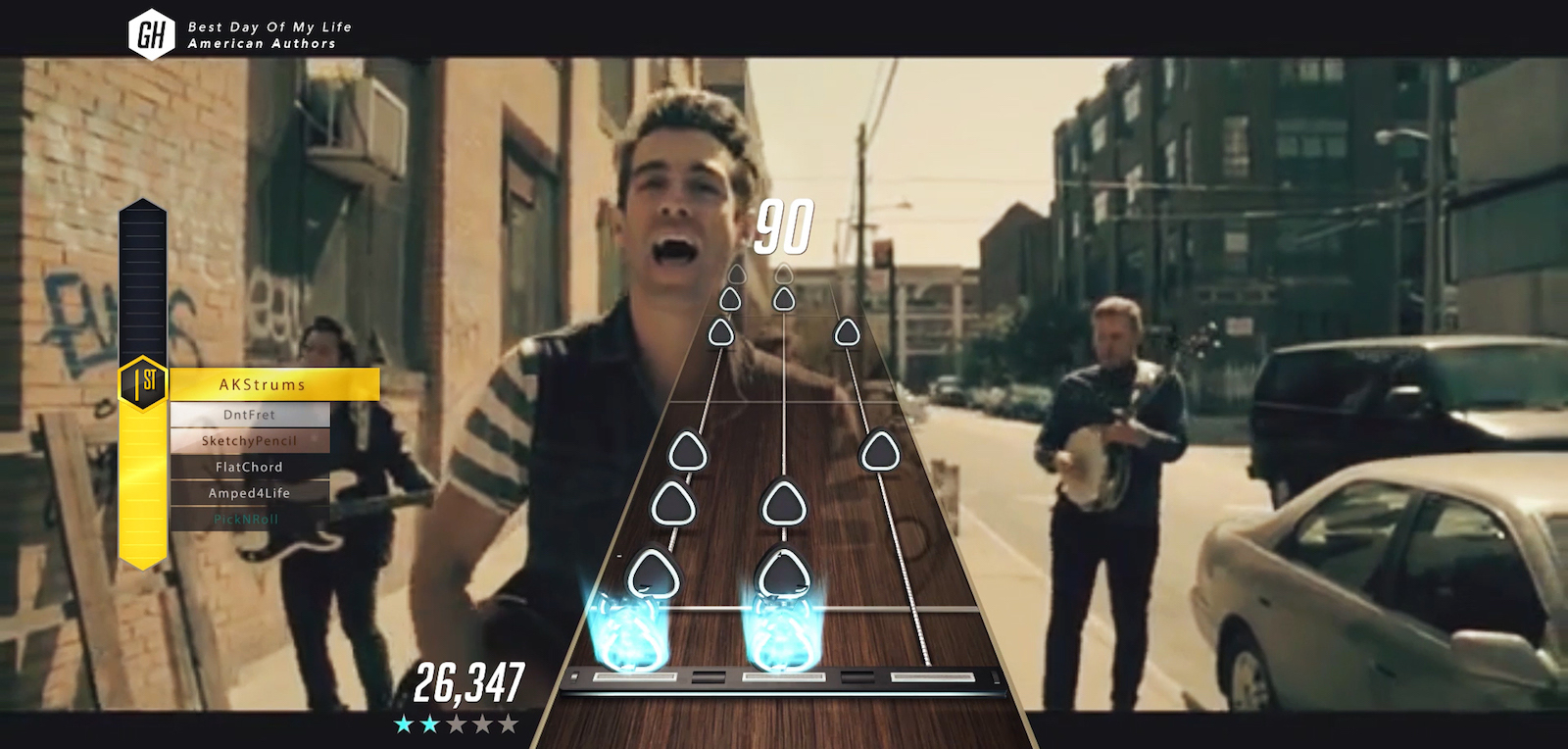 The second way to play it is multiplayer online, where you jump into scheduled timed playlists with different type of music genres trying to beat other peoples scores. All the people will be playing together live and you will see the score rankings as you play on the left of your screen.
Here is where you will earn money that you later can buy more songs to play with later.
This is really fun, and while you play you will see the music video to that song in the background too. What I like about this game is all the different kind of music there is, there is something for everyone here, like pop music from Katy Perry to rock from My Chemical Romance and everything in between… for those who just love music overall (like me) this is perfect.
I do miss some old 60's – 70's music and some Guns and Roses (Sweet Child of mine), that would have been nice, but hopefully that can come later as a dlc, as lots of other music. That's whats also great about this game, it's surely going to come some great downloadable content where you can choose what to buy and download the music you would like to play.
I had really fun with Guitar Hero Live, I've enjoyed every second playing with it. Sure it has some faults, but they are not many and not huge… More content will surely come and make more people happy but the good thing is that everybody that loves music can enjoy it.
There is also an option to connect a microphone to it and where you will earn point depending on how good your vocals are, so… you can play 3 people at once.
There is no excuse now to have a boring party, this will absolutely be the center of joy, the moment where you can finally feel like a true rockstar!
RATING: 8/10
You can see the complete Guitar Hero tracklist after the pictures…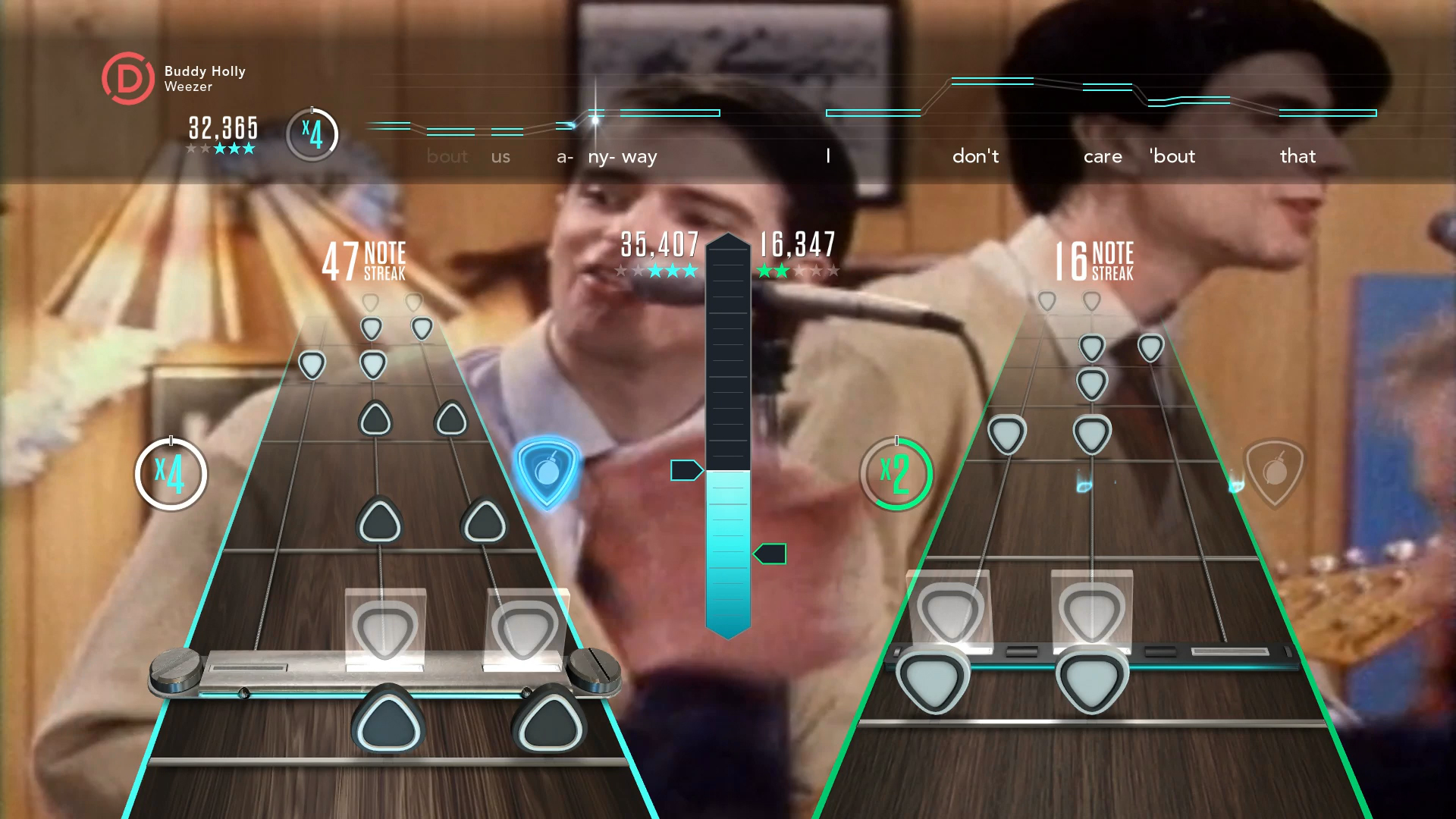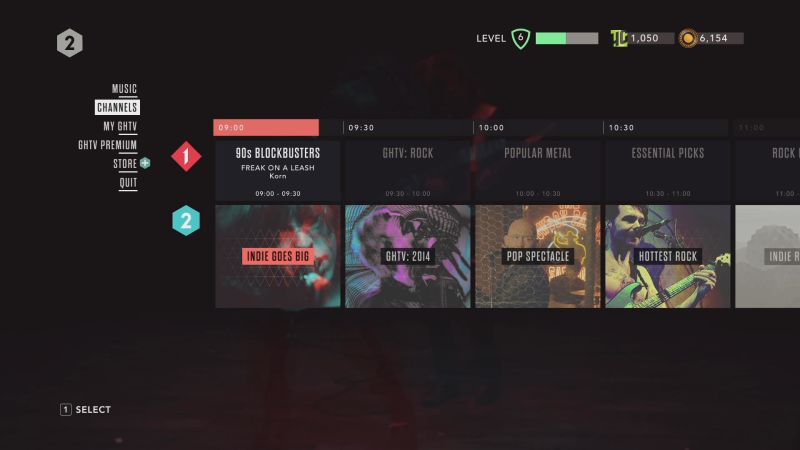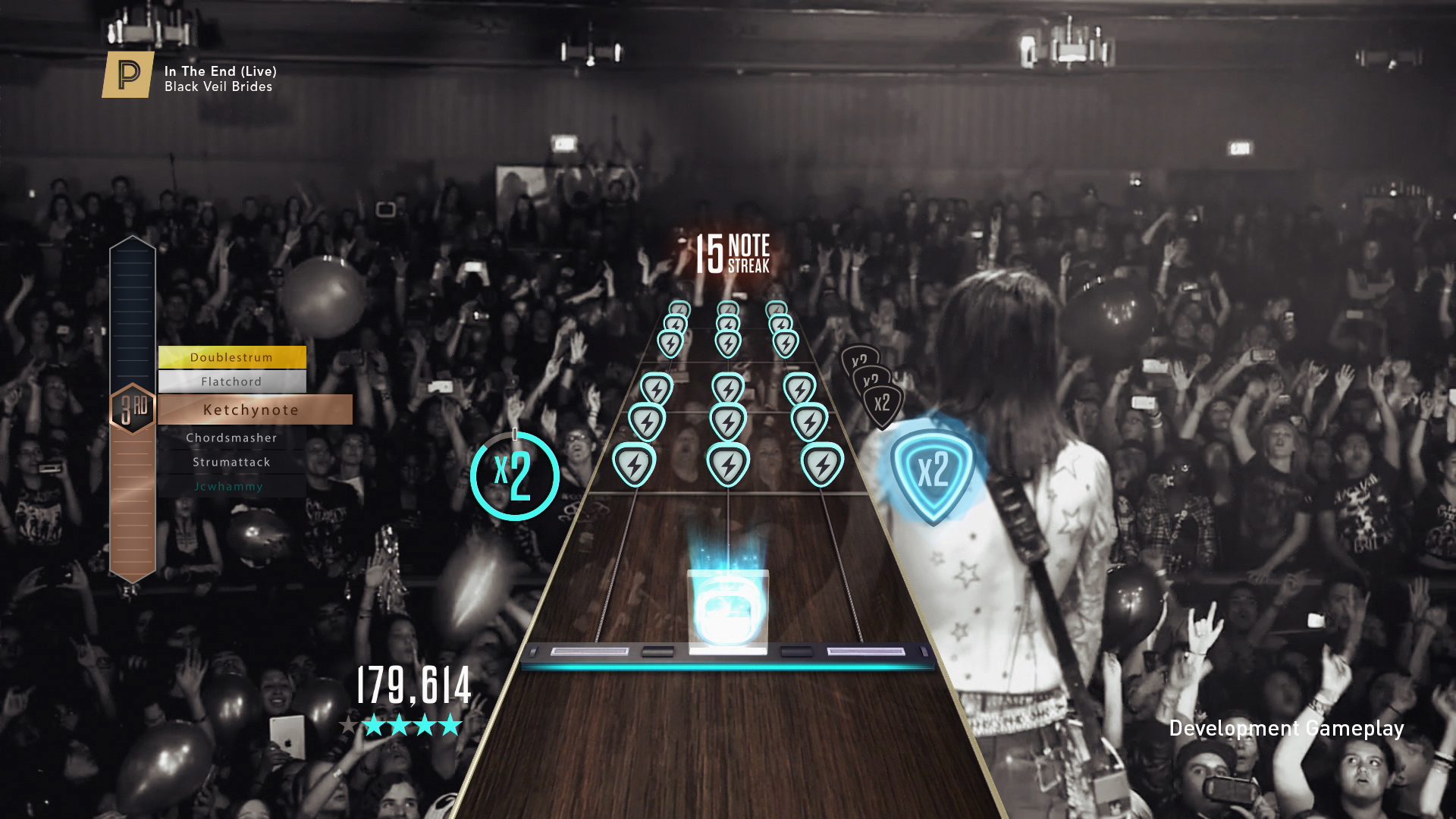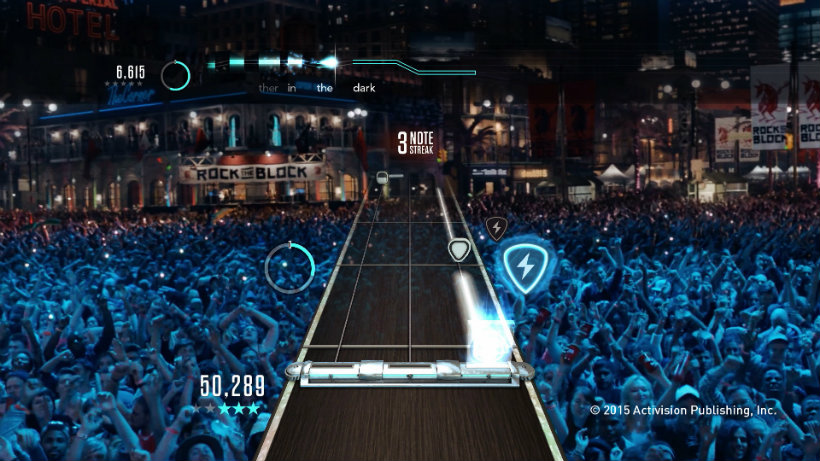 GUITAR HERO LIVE TRACKLIST
GH Live:
The 1975 – Girls
30 Seconds To Mars – The Kill (Bury Me)
Arctic Monkeys – R U Mine?
Avril Lavigne – Here's To Never Growing Up
Biffy Clyro – Victory Over The Sun
The Black Keys – Gold On The Ceiling
Blink 182 – The Rock Show
Bring Me The Horizon – Shadow Moses
Deap Vally – Lies
Elbow – Grounds For Divorce
Eminem – Berzerk
Fall Out Boy – Songs Know What You Did In the Dark (Light Em Up)
Gaslight Anthem – The 45
Good Charlotte – The Anthem
Green Day – Nuclear Family
Halestorm – Love Bites (So Do I)
Imagine Dragons – Demons
Jack White – Lazaretto
Kasabian – Club Foot
Katy Perry – Waking Up In Vegas
The Killers – When You Were Young
Linkin Park – Wastelands
The Lumineers – Ho Hey
Mumford & Sons – I Will Wait
Neon Trees – Everybody Talks
Of Mice and Men – Bones Exposed
Of Monsters And Men – Mountain Sound
One Republic – Counting Stars
Paramore – Now
Pearl Jam – Mind Your Manners
Pierce The Veil – King for a Day ft. Kellin Quinn
Queen – Tie Your Mother Down
Rihanna – California King Bed
Rise Against – Tragedy + Time
Rival Sons – Keep On Swinging
The Rolling Stones – Paint It Black
Royal Blood – Little Monster
Skrillex – Bangarang
Soundgarden – Been Away Too Long
The Who – Won't Get Fooled Again
Wolfmother – Sundial
You Me At Six – Lived a Lie
GHTV (to be continually updated):
36 Crazyfists – Also Am I
A Day To Remember – Right Back At It Again
AFI – Girl's Not Grey
Against Me! – Black Me Out
Airbourne – Back in The Game
Alice in Chains – Stone
Alt-J – Left Hand Free
Alter Bridge – Addicted To Pain
Alter Bridge – Cry of Achilles
American Authors – Best Day of My Life
Amy Winehouse – You Know I'm No Good
Angus & Julia Stone – A Heartbreak
Anthrax – Got The Time
Architects – Gravedigger
Asking Alexandria – The Final Episode
Audioslave – Cochise
Avenged Sevenfold – Shepherd Of Fire (Live at Download Festival)
Avenged Sevenfold – Buried Alive (Live at Download Festival)
Avenged Sevenfold – Nightmare (Live at Download Festival)
The Avett Brothers – Another Is Waiting
Band of Skulls – Asleep At The Wheel
The Band Perry – Don't Let Me Be Lonely
Beartooth – I Have A Problem
Biffy Clyro – Sounds Like Balloons
Black Keys – Gold On The Ceiling
Black Keys – Tighten Up
Black Tide – That Fire
Black Veil Brides – In The End
Black Veil Brides – Fallen Angels
Bleachers – Rollercoaster
Blink-182 – All The Small Things
Blitz Kids – Sometimes
Blondie – Hanging on the Telephone
Bob Dylan – Thunder On The Mountain
Boston – More Than A Feeling
Broken Bells – Leave It Alone
Bruno Mars – The Lazy Song
Bullet For My Valentine – Temper Temper
Calvin Harris – Feel So Close
Carrie Underwood – Before He Cheats
Catfish and the Bottlemen – Kathleen
Charli XCX – Famous
Cheap Trick – Don't Be Cruel
Chevelle – The Clincher
Chrissie Hynde – Dark Sunglasses
The Clash – I Fought The Law
Cold War Kids – Louder Than Ever
The Colourist – Little Games
Courtney Barnett – Pedestrian At Best
Cypress Hill ft. Tom Morello – Rise Up
Dandy Warhols – Bohemian Like You
Darwin Deez – You Can't Be My Girl
David Bowie – Valentine's Day
Dead Sara- Weatherman
Decade- Brainfreeze
Deftones – Diamond Eyes
Disturbed- Down With The Sickness
Disturbed – Stricken
Don Broco – You Wanna Know
Dream Theater – The Looking Glass
Dum Dum Girls – Rimbaud Eyes
Echosmith – Cool Kids
Ed Sheeran – SING
Elbow – Grounds For Divorce
Faith No More – Epic
Fall Out Boy – My Songs Know What You Did In The Dark (Light 'Em Up)
Flobots – Handlebars
Flyleaf – New Horizons
Foster The People – Coming Of Age
Foster the People – Don't Stop (Color On The Walls)
Fountains of Wayne – Stacy's Mom
Four Year Strong – It Must Really Suck To Be Four Year Strong – Right Now
The Fray Love – Don't Die
fun. – Why Am I The One
Funeral Party – Finale
Gary Clark Jr. – Don't Owe You A Thang
The Gaslight Anthem – Handwritten
The Gaslight Anthem – Rollin' and Tumblin'
Gerard Way – No Shows
Good Charlotte – Girls & Boys
Green Day – American Idiot
Green Day – Oh Love
Grizfolk – The Struggle
Grouplove – Shark Attack
Haim – The Wire
Heaven's Basement – Can't Let Go
Hilary Duff – Chasing The Sun
Hinder – Use Me
Ida Maria – I Like You So Much Better When You're Naked
Iggy Pop – Lust For Life
In Flames – Deliver Us
Incubus – Drive
Interpol – All The Rage Back Home
Islander – Coconut Dracula
Jack White – Lazaretto
Jake Bugg – What Doesn't Kill You
James Bay – Hold Back The River
Jamestown Revival – California (Cast Iron Soul)
Jet – Are You Gonna Be My Girl
Joe Satriani – Always With Me, Always With You
The Joy Formidable – Whirring
Judas Priest – Breaking The Law
Karma Killers, The – Coming Of Age
Kevin Rudolf – Don't Give Up
Killswitch Engage – In Due Time
Kings of Leon – Sex On Fire
KONGOS – Come With Me Now
Korn – Freak on a Leash
Lamb of God – Ghost Walking
Lenny Kravitz – Are You Gonna Go My Way?
Lit – My Own Worst Enemy
Living Colour – Love Rears Its Ugly Head
Living Colour – Cult Of Personality
Lonely The Brave – The Blue, The Green
Low Cut Connie – Shake It Little Tina
Luke Bryan – That's My Kind of Night
The Madden Brothers – We Are Done
Marilyn Manson – Disposable Teens
Marmozets – Move Shake Hide
Mastodon – High Road
Megadeth – Hangar 18
MGMT – Time To Pretend
Modest Mouse – Float On
The Mowgli's – San Francisco
Mudhoney – The Only Son of the Widow from Nain
My Chemical Romance – Na Na Na (Na Na Na Na Na Na Na Na Na)
Neon Trees – Everybody Talks
New Politics – Harlem
Nickelback – Edge Of A Revolution
Oceans Ate Alaska – Vultures & Sharks
Of Monsters And Men Little Talks
The Offspring – The Kids Are Alright
One Direction – Live While We're Young
OneRepublic – Counting Stars
Orianthi – According To You
The Orwells – Who Needs You
P!nk – Try
Panic! at the Disco – Girls/Girls/Boys
Pantera – Cowboys From Hell
Paramore – Still Into You
Passenger – Let Her Go
Passion Pit – Take A Walk
Pat Benatar – Hit Me With Your Best Shot (Live)
Pearl Jam – Sirens
The Preatures – Better Than It Ever Could Be
The Pretty Reckless – Going To Hell
The Psychadelic Furs – Heaven
Puppy – Forever
Queen – I Want It All
Queen – We Are The Champions
Queensryche – Eyes Of A Stranger
R.E.M. – The One I Love
Rage Against The Machine – Guerilla Radio
Rage Against The Machine – Bulls On Parade
Ratt – Round and Round
Real Estate – It's Real
Red Hot Chili Peppers – Higher Ground
Rev Theory – Hell Yeah
Rise Against – Satellite
Royal Blood – Come On Over
Rush – Limelight
Screaming Trees – Nearly Lost You
Shins, The – The Rifle's Spiral
SKATERS – I Wanna Dance (But I Don't Know How)
Slaves – Feed The Mantaray
Sleigh Bells – Bitter Rivals
Slipknot – Before I Forget
Soul Asylum- Misery
Soundgarden – Spoonman
Soundgarden – Black Rain
Spector – Friday Night, Don't Let It Ever End
Spring King – City
State Champs – Elevated
Stevie Ray Vaughan & Double Trouble – Cold Shot
Strokes, The – Under Cover of Darkness
Strokes, The – Reptilia
Sum 41 – In Too Deep
Sunset Sons – Remember
Sunset Sons – Medicine
Surfer Blood – Demon Dance
Survivor – Eye Of The Tiger
System of a Down – Chop Suey!
Temple of the Dog – Hunger Strike
Tenacious D – Tribute
Tesla – Modern Day Cowboy
Tonight Alive The Ocean
Trivium – Strife
Turbowolf – Nine Lives
TV On The Radio – Lazerray
Vampire Weekend – A-Punk
The Vamps – Somebody To You (ft. Demi Lovato)
Vines – Metal Zone
Vista Chino – Sweet Remain
Walk Off The Earth – Red Hands
War On Drugs, The – Under The Pressure
Warrant – Sometimes She Cries
Warrant – Cherry Pie
Wavves Demon To Lean On
We Are Scientists – Nobody Move, Nobody Get Hurt
We Are The In Crowd – The Best Thing (That Never Happened)
Weezer – Buddy Holly
White Denim – At Night In Dreams
White Stripes, The – Fell In Love With A Girl
White Zombie – Thunder Kiss '65
Wolf Alice – Moaning Lisa Smile
Yelawolf – American You
Young Rising Sons – King of the World
Zedd -I Want You To Know (ft. Selena Gomez)
ZZ Top -I Gotsta Get Paid