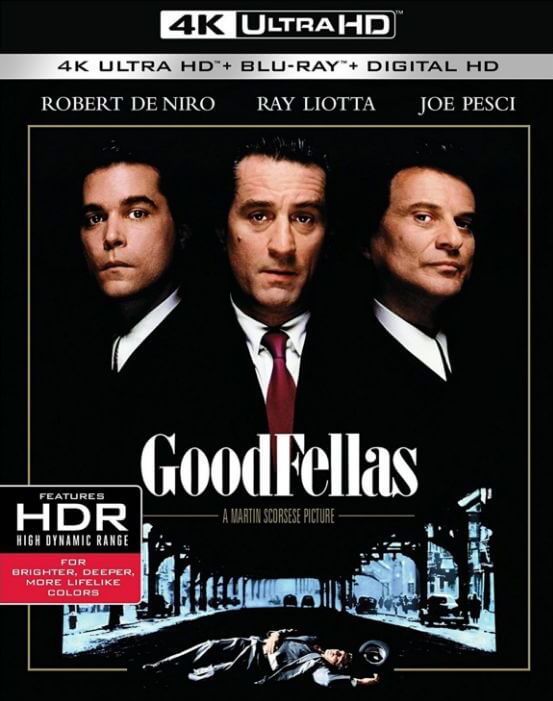 GOODFELLAS (1990) 4K HDR!
Director: Martin Scorsese
Actors: Robert De Niro,  Ray Liotta,  Joe Pesci
Biography/Crime/Drama, 146 minutes.
Distributor: Warner Bros
Out on 4K, Bluray and Dvd now, you can order it here!
"This film views the mob lives of three pivotal figures in the 1960's and 70's New York. Henry Hill is a local boy turned gangster in a neighborhood full of the roughest and toughest. Tommy DeVito is a purebred gangster, who turns out to be Henry's best friend. Jimmy Conway puts the two of them together, and runs some of the biggest hijacks and burglaries the town has ever seen. After an extended jail sentence, Henry must sneak around the back of the local mob boss, Paulie Cicero, to live the life of luxury he has always dreamed of. In the end, the friends end up in a hell of a jam, and must do anything they can to save each other, and stay alive."
Where to begin!? The the most amazing movie that has ever been made has gotten even better! This is and has always been my favorite movie ever, it has everything and watching it in 4K now has been quite an experience. It felt almost like I was watching it for the first time again,  seeing more of the small details like the background decoration in every scene, the colors, every little thing that made a sound… It was incredible! It's amazing how much the resolution can do, and that coming from Blu-ray.
I mention the sound, yes even the sound has gotten much better.
Goodfellas is a remarkable movie that was made by the legendary director Martin Scorsese back in 1990 and even though its almost 30 years old it still feels like a movie that could have been made today.
It has drama, it has action, it's funny… funny how? Really funny… and it's based on a true incredible story! The characters are so full of life and background story, the soundtrack is one of the best ever on a movie, I can't tell you enough about this movie. If you haven't seen it yet i'll suggest you do immediately! And if you have seen it I really recommend you watch it again next time on 4K with HDR! You will be surprised how much better it will look ;)
The best movie ever has gotten a facelift it didn't necessarily need but that was very much appreciated and that surely made it even better!
RATING: 10+/10
Extras:

Commantaries: Cast and crew
Commentaries: Cop and crook
Thanks you so much Warner Bros!