EDDIE THE EAGLE (2016) Blu-ray
Director: Dexter Fletcher
Actors: Taron Egerton,  Hugh Jackman,  Tom Costello
Biography/Comedy/Drama, 106 minutes.
Distributor: 20th century fox
Out on Bluray and Dvd now, you can order it here!

"Inspired by true events, Eddie the Eagle is a feel-good story about Michael "Eddie" Edwards (Taron Egerton), an unlikely but courageous British ski-jumper who never stopped believing in himself – even as an entire nation was counting him out. With the help of a rebellious and charismatic coach (played by Hugh Jackman), Eddie takes on the establishment and wins the hearts of sports fans around the world by making an improbable and historic showing at the 1988 Calgary Winter Olympics. From producers of Kingsman: The Secret Service, Eddie the Eagle stars Taron Egerton as Eddie, the loveable underdog with a never say die attitude."
Always loved movies that are based on real people and real events, I find them interesting and educational, this movie was no exception, it will leave you with a "Feel Good" feeling afterwords.
The story was simple but heartwarming, the characters were very likable and believable, I was rooting for so much Eddie inside at the end that I almost thought it was happening on tv in real time. Eddie The Eagle is so deserving for a film that honors his hard work dedicated to his Olympic dream. A very good movie.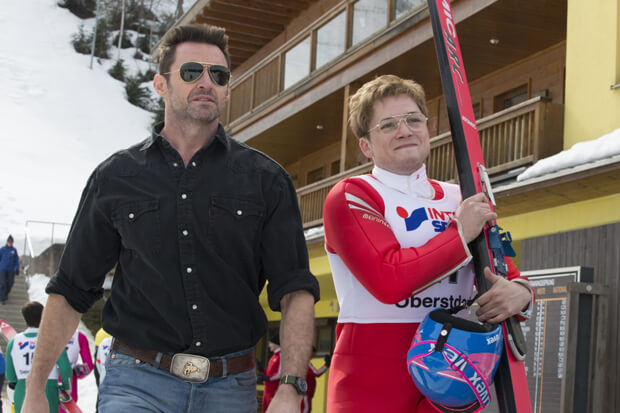 RATING: 7,5/10
Extras:

Let The Game Begin: Soaring With Eddie The Eagle
All Or Nothing: The Hero's Heart
An Unlikely Friendship: Eddie & Peary
Attitude Is Altitude: Filming The Ski Jumps
Gallery