DAWN OF THE PLANET OF THE APES (2014) 4K UHD
Director: Matt Reeves
Actors: Gary Oldman,  Keri Russell,  Andy Serkis
Action/Drama, 130 minutes.
Distributor: 20th Century Fox
Out on 4K UHD, Bluray and Dvd now, you can order it here! Released 2017-07-03.
"10 years after his escape from captivity Caesar heads a vast colony of apes and chimps living a self-sufficient life in the woods outside San Francisco. In the city itself a depleted group of Simian Flu survivors struggle to exist, their best hope being to revitalise a hydro-electric dam which will restore their power. However to reach it they must pass through Caesar's domain. Group leader Malcolm and Caesar have a mutual respect which allows the restoration to take place but Caesar's embittered lieutenant Koba, a victim of animal experimentation, has no such faith in humans and usurps Caesar, leading a full-scale attack on the city, most of whose inhabitants regard the apes as savages and a fierce battle takes place. It is down to Caesar and Malcolm to join the voices of reason together to re-establish a peace which will benefit both camps."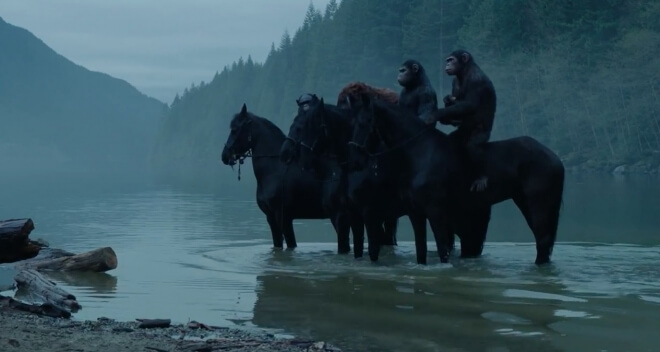 Wow, I told in the last review about how hard it is to make a reboot of a franchise that worked so well ages before succeed and how Rise of the planet of the Apes managed to do just that… but its almost even harder to make a great sequel of an almost perfect movie, and once again the apes are delivering.
Dawn of the Planet of the Apes is a fantastic sequel that includes everything you had hoped for. The story continues to draw your interest throughout the whole movie, It's political, very emotional and honest. And in some points reminds you of  The Godfather movie… it's incredible how much these apes can express through CGI, they done it much better this time around… The cinematography is wonderful, the woods feel so alive and real, and after a while with so much silence just seeing the apes communicate with their hands and a few words you start feeling like your almost there surrounded by them.
The cast is great too, we don't see anyone from the first movie (except the digitalised apes) and still it managed to make us connect to the new characters like we known them from before. It's a sequel with a whole new cast, and it didn't felt like that.
The special effects were almost invisible, I couldn't quite tell what was real and what not, so I believe a lot work has surely been done here. I really enjoyed Dawn of the Planet of the Apes, without a doubt one of the best sequels ever made!
The comparison between the Bluray and the UHD version are much higher than the first movie… fine lines and objects are noticeably sharper, showing better clarity of the city streets, buildings and the various items furnishing the small community. But the where the 4K improvement really shines is in the blackness level. The HDR10 version shows richer, inkier layers of true black with luxurious gradations between the various shades while shadow details remain plainly visible and sharply delineated.
A very nice and very much appreciated update on a movie that was already fantastic!
Thanks 2oth Century Fox!
RATING: 9/10
4K and Bluray Comparisons.
The biggest difference between 4K Ultra HD and traditional Blu-ray is that the former supports resolutions up to 3840 x 2160 (4K), while the latter caps out at 1920 x 1080 (1080p). 4K is four times better than Blu ray. HDR is also available in 4K UHD… HDR expands the range of both contrast and color significantly. Bright parts of the image can get much brighter, so the image seems to have more "depth." Colors get expanded to show more bright blues, greens, reds and everything in between.
Other than the UHD Blu-ray with HDR10, there are no exclusive features on this release. But there is plenty to watch here if you haven seen it before ;)
Extras:

Dawn of the Planet of the Apes in High Definition
Journey to Dawn • Andy Serkis: Rediscovering Caesar
Humans and Apes: The Cast of Dawn
The World of Dawn
The Ape Community
Move Like an Ape: An Artist's Medium
Weta and Dawn
The Fight for a New Dawn
Deleted Scenes With Optional Audio Commentary by Matt Reeves
Feature Audio Commentary by Matt Reeves
Gallery