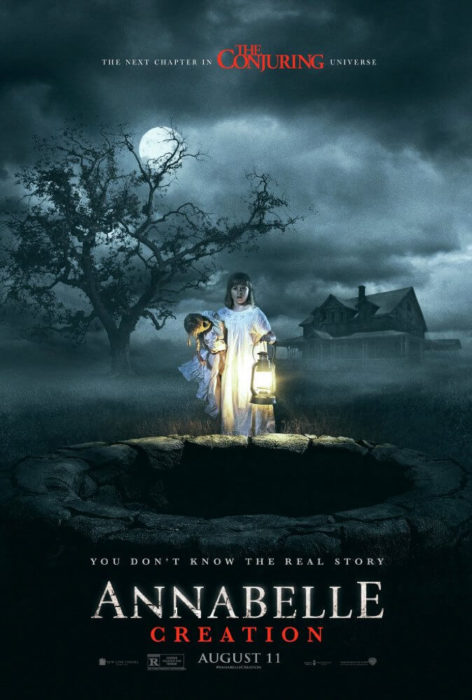 Reviewed by: Beauty Martinez
Director; David F. Sandberg
Horror/Thriller
1h 49 minutes
Swedish premiere; August 9th

David F. Sandberg, the Swedish director behind the movie Lights Out, delivers another heart throbbing, nail biting, and pulse rising mystery that will capture your attention due to its beautiful vision, well-made script, and phenomenal acting from the entire ensemble.
Annabelle: Creation AKA Annabelle 2 is a prequel of a prequel, Anabelle was the prequel to The Conjuring, and this is the prequel to that, hence the name "Creation".
Besides giving fans a fantastic story, it has set the bar high for future prequels and horror films due to its great work.
Here, we get to join in the making of Annabelle and what lures behind the porcelain vintage doll that will give you the creeps crawling up your spine whenever the camera lens focuses on her.
Husband and Wife, the Mullins, lose their precious daughter after a horrific accident that takes her away from them way too soon. Through their sorrow, they turn to higher forces in hope to somehow get in contact with their little Bee, only to find out that whoever has entered their home, ain't their daughter they so were longing to have back in the lives.
Years later, they welcome a nun and few girls from an orphanage to live with them, and soon, whatever entity that was there once before, makes itself present all over again…
I found it to be a great asset to previous films, the plot was well done and intriguing, keeping you interested throughout the movie. Plus, the best part of it all? It has a scene that connects with the previous Annabelle, giving you a massive "aha moment" when seeing it.
For anyone expecting massive horror will be disappointed, it's more of a thriller with a splash of mystery and a dash of suspense. If you've seen the previous ones, I strongly recommend this one. 7/10