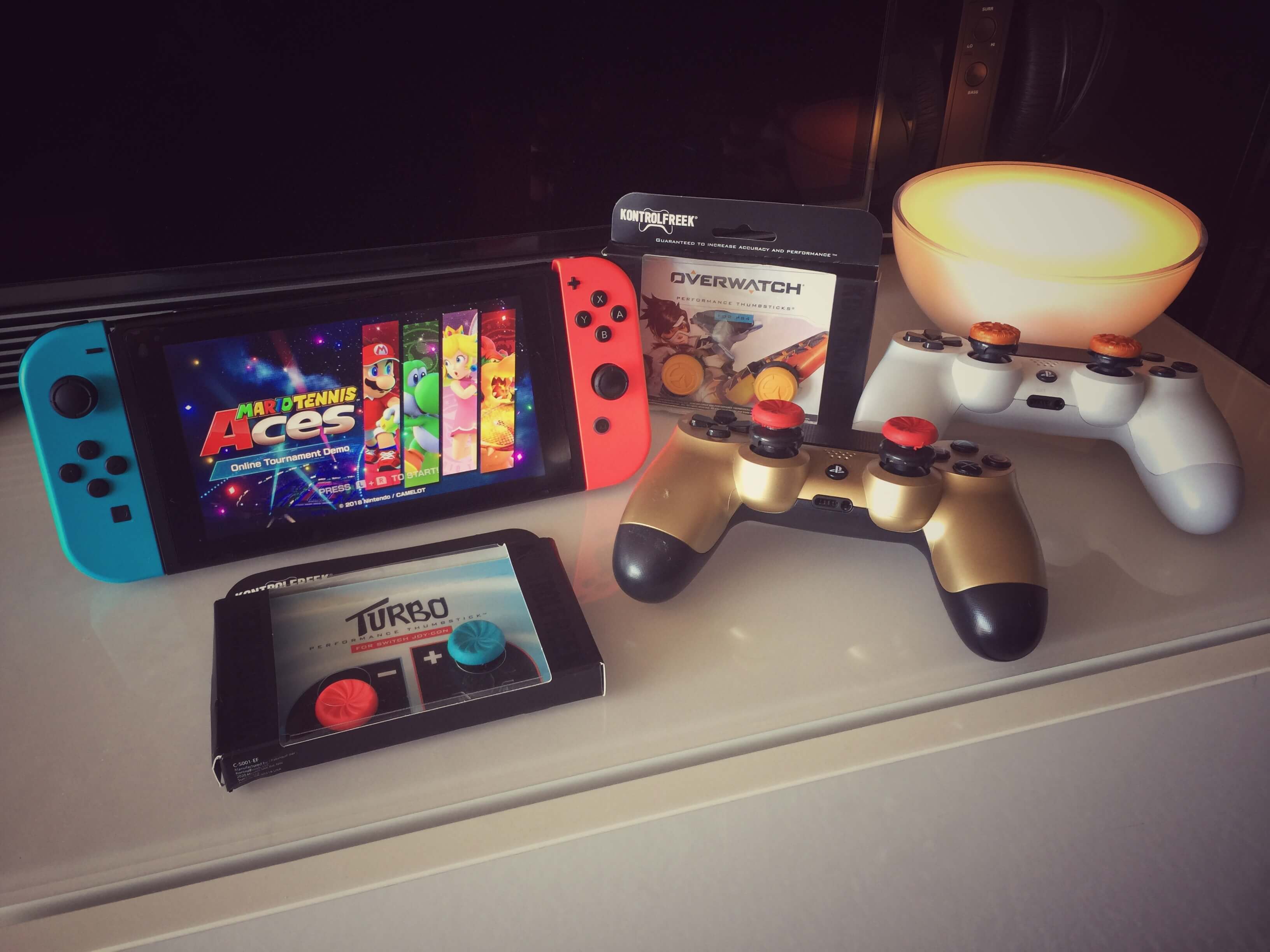 Hi everyone! I got to try out some new accessories from Kontrolfreek! They have lots of different accessories to all consoles and this time I got to try out some thumbsticks for ps4 and for the Nintendo Switch controllers.
And this is a quick review of them.
I have never tried these type of accessories, I know other companies have made similar accessories as these before, but the ones I've seen are very ugly and not special in any way.
But Kontrolfreek has managed to put a unique touch to these thumbsticks and make them cool! They have all some sort of engraving of your personal favorite games and nice colors that matches your controller, there are also different sizes in these thumbsticks, depending on how big your hands are or how much you want them to control your gameplay, you ca for example use a bigger thumbstick in one side and a smaller on the other side, so yes, you can mix them in lots of combinations.
But I really never knew why I (that plays quite a lot) would need these things, but as soon as I tried them out I understood immediately. They give you a better control of you gameplay, specially in the movement aspect and particular in fps shooters! The movements felt much more… exact, is that the right word? I felt I now had better control of my characters (played Battlefield 1 and Cod WWII on ps4 and the new Donkey Kong Tropical Freeze on the Switch) and I was surprised how such a small thing could make a difference like that.
So yeah, I will use them all the time in fps games now and also on the Nintendo Switch (felt good and gave a better grip overall)… I did try them out for FIFA 18 as well, but didnt feel the same difference there. I was more comfortable without them in that game, but maybe you won't.
They gave an enhancement in my gameplay, I liked the the way they looked and as I said before, it gave my controllers a more unique touch and looked more cool.
They are easy to attach and easy to remove, so no problems there.
I really liked the thumbsticks and can easily recommend them, check more pictures below!
If you want more info and see all the different engravings, sizes  and colors Kontrollfreeks have go to www.kontrollfreek.com to read more ;) Thanks!