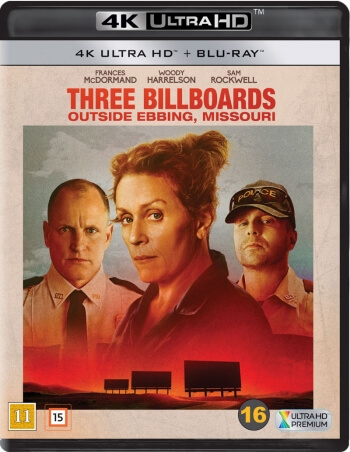 Three Billboards Outside Ebbing, Missouri (2018) 4K UHD
Director: Martin McDonagh
Actors: Frances McDormand, Woody Harrelson, Sam Rockwell
Comic/Drama/Crime 115 minutes.
Distributor: 2oth century fox
Out on Bluray and Dvd now, you can order it here! 
"It's been already seven months since her daughter's hideous murder, and the divorced mother, Mildred Hayes, is still grieving, refusing to come to terms with her loss. In Mildred's case, nothing seems to be able to take away the gut-wrenching pain only a mother feels when she loses a child; however, in one of those spur-of-the-moment decisions, the plucky parent will rent three derelict billboards on the outskirts of her town, Ebbing, to declare war against the local police for failing to find the killer. No one is spared in this brave crusade, not even the ailing police chief, Willoughby, as Mildred's bold black-on-red statements demand answers and the culprit's head on a platter. Just how far is Mildred willing to go to appease her rage?"
Such a great movie! It has everything, it's dark but at the same time quite funny… the movie goes trough a rollercoaster of emotions. The acting is superb and the actors really delivers believable characters and characters that you get to know better because of their evolvement.
The movie is unpredictable and the director and writer Martin McDonagh did a phenomenal job with this one.
Can only recommend it!
RATING: 8,5/10
Extras:
• Deleted Scenes
• Three Billboards Outside Ebbing, Missouri in High Definition
• Crucify 'Em: The Making of Three Billboards
• Six Shooter (Academy Award®-Winning Original Short Film by Martin McDonagh*)
• Gallery
4K and Bluray Comparisons.
The biggest difference between 4K Ultra HD and traditional Blu-ray is that the former supports resolutions up to 3840 x 2160 (4K), while the latter caps out at 1920 x 1080 (1080p). 4K is four times better than Blu ray. HDR is also available in 4K UHD… HDR expands the range of both contrast and color significantly. Bright parts of the image can get much brighter, so the image seems to have more "depth." Colors get expanded to show more bright blues, greens, reds and everything in between.