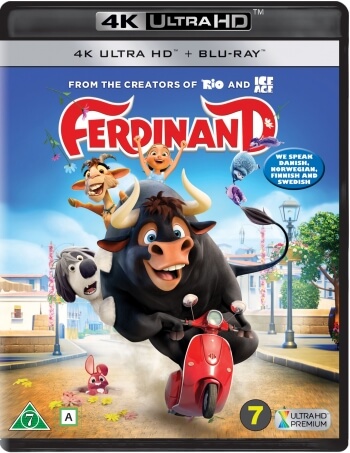 FERDINAND (2017) 4K UHD
Director: Carlos Saldanha
Actors: John Cena, Kate McKinnon, Bobby Cannavale
Animation/Adventure, 108 minutes.
Distributor: 20th century fox
Out on Bluray and Dvd now, you can order it here! 
"Destined to become a fearless fighting bull, the young pacifist and flower-loving calf, Ferdinand, summons up the courage to escape from a Spanish bull-training camp, to finally find himself on little Nina's idyllic and fragrant farm. However, an unfortunate run-in with a busy golden bee will send the immense but peaceful animal back to the old Casa del Toro academy, where the famous matador, El Primero, usually selects his worthy bovine opponents for the arena. Does Ferdinand hide a fierce champion underneath a mountain of muscles, or is he a gentle giant after all?"
Ferdinand is a great movie with a very lovely message. It looks gorgeous too with lots of summer colors, green fields, blue skies and many other things that gives a very good feeling when watching it.
We watched the movie with he whole family and we all enjoyed it as much.
It could have been a few more jokes in it, but it has a great story and that is the most important thing.
The 4K video really stands out, its an amazing picture with a beautiful and sharp picture quality, a joy for your eyes!
RATING: 7/10
Extras:
• Ferdinand's Team Supreme
• "Home" Nick Jonas Music Video
• Creating a Remarka-Bull Song
• Learning to Dance with Ferdinand
• Ferdinand's Do-It-Yourself Flower Garden 
• AND MORE!
4K and Bluray Comparisons.
The biggest difference between 4K Ultra HD and traditional Blu-ray is that the former supports resolutions up to 3840 x 2160 (4K), while the latter caps out at 1920 x 1080 (1080p). 4K is four times better than Blu ray. HDR is also available in 4K UHD… HDR expands the range of both contrast and color significantly. Bright parts of the image can get much brighter, so the image seems to have more "depth." Colors get expanded to show more bright blues, greens, reds and everything in between.