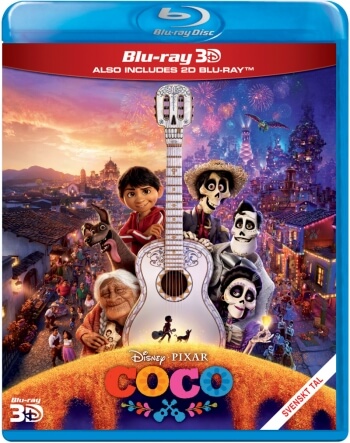 COCO (2017) 3D Blu-ray
Director: Lee Unkrich, Adrian Molina
Actors: Anthony Gonzalez, Gael García Bernal, Benjamin Bratt
Animation/Adventure 105 minutes.
Distributor: Walt Disney
Out on Bluray and Dvd now, you can order it here! 
"Despite his family's baffling generations-old ban on music, Miguel dreams of becoming an accomplished musician like his idol, Ernesto de la Cruz. Desperate to prove his talent, Miguel finds himself in the stunning and colorful Land of the Dead following a mysterious chain of events. Along the way, he meets charming trickster Hector, and together, they set off on an extraordinary journey to unlock the real story behind Miguel's family history."
Wow, this movie just exceeded my expectations! It was such a lovely story and had one of the most memorable soundtracks I've ever listened to in a animated movie… and the end version when the end credits starts rolling are one of the best songs I've ever heard period. "Remember me (Duo) Miguel & Natalia Lafourcade", it's on Spotify… just beautiful!
I enjoyed COCO so much, it also managed to surprised me in the story development when you thought it was going to go a completely direction. It was the perfect way also to explain to you kids how the other side may look like, and that we will never be apart.
My 8 year old daughter loved it so much, and even she got emotional in all kinds of way.
One of Disneys best movies so far, and that says a lot!
RATING: 9/10
+ The 3D was a nice alternative, it was very beautiful and it looked very good, I watched it without 3D as well and the experience was awesome too, but it you want some extra enjoyment the 3D delivers that ;) and there is also a lot of extra content!