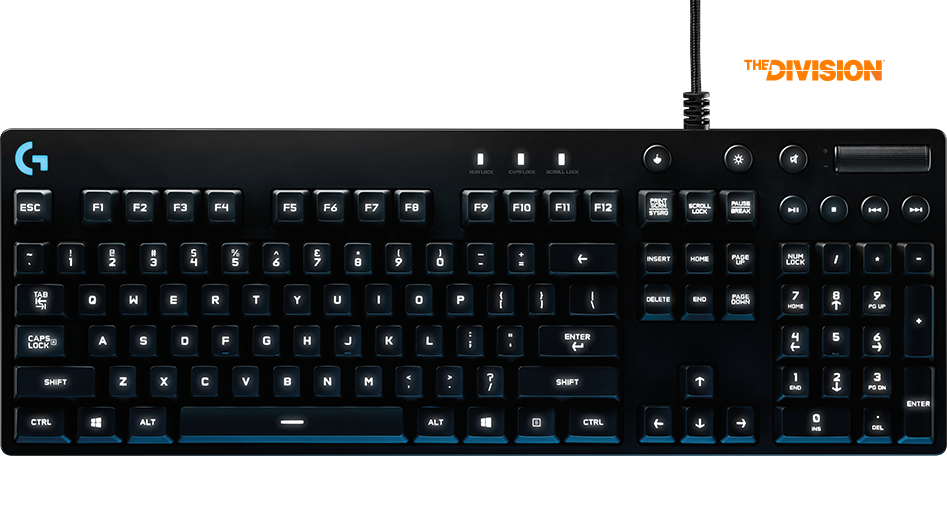 Logitech G810 Orion spectrum is a new keyboard designed for both pleasure and work. Despite a full design model is minimal in its design since there are no dedicated buttons for macros, and the outer edges has been kept as thin as possible. G810 is significantly less than many other keyboards, but the compromise even though it is not the properties.
Logitech has chosen, for example, own mechanical switch Romer-G with the G810 allegedly registering strike up to 25 percent faster than competitor keyboards with the usual cherry-breaker. Romer-G will be very similar to cherry brown in design but faster and also have dual registration points for increased safety. If the top is not registering a crackdown could lower do it and without significant delay.
Full table keys are backlit keys with support for display with 16.8 million colors. The included software Logitech Gaming Software allows you to control exactly how the lighting will look and even synchronize with other accessories from Logitech's gaming series. Anyone who wants can also activate the Gaming mode where only selected keys are backlit for easier selection.
The dimensions of the G810 are 153 x 443.5 x 34.3 mm and the weight stays at 1 180 grams. That compares with rival Corsair Gaming K95 with its 502 x 163 x 24 millimeters and 1400 grams.
Maximum retail price may scare
On February 8 launched Logitech G810 Orion spectrum, and to order the keyboard before April 1 will be included with the game The Division completely free. The price is about 1990 sek, which puts the model in the higher price range.
For about the same price available today models Corsair Gaming K95, Ducky Shine 5 and SteelSeries Apex M800. In the class there are not many competitors vying for attention but the path is lined with many excellent products at lower prices.
Lets see if Logitech manage to convince the market that the G810 is worth the money even without The Division, remains to be seen when the first reviews reach the Internet.