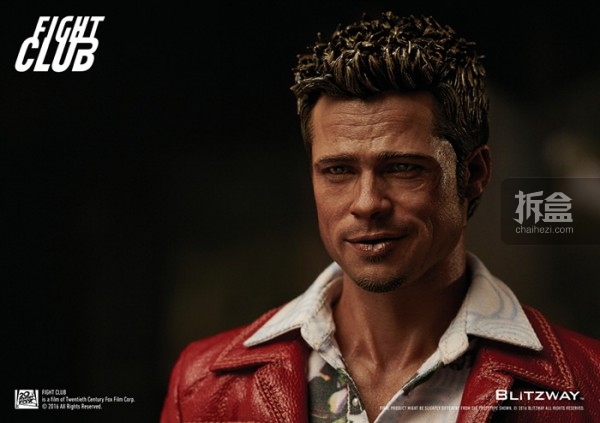 Wow, Blitzway nailed it again, this time with BRAD PITT and his character Tyler Durden from Fight Club! It's a 1/6 scaled figure with a huge likeness… and there are 2 different version of the figure from the movie you can choose, both cost 249dollar and thats without shipping costs or fee's. Have a look at the pics below :D klick on them to make them larger!
Fight Club is a 1999 American film based on the 1996 novel of the same name by Chuck Palahniuk. The film was directed by David Fincher, and stars Brad Pitt, Edward Norton and Helena Bonham Carter. Norton plays the unnamed protagonist, an "everyman" who is discontented with his white-collar job. He forms a "fight club" with soap maker Tyler Durden, played by Pitt, and they are joined by men who also want to fight recreationally. The narrator becomes embroiled in a relationship with Durden and a dissolute woman, Marla Singer, played by Bonham Carter.
One of the Best Movies of Brad Pitt! He teamed with director David Fincher on this fantastic cult classic, and delivered a great performance with a sardonic smile and a wit as a charismatic hero 'Tyler Durden'.
Have a look at all the pictures below! :D Looks really cool doesn't it!?
You can order this at www.Blitzway.com which version do you prefer? Im liking the red jacket version!