Spel: The Amazing Spiderman 2
Format: PC / PS3 / PS4 / Wii U / Xbox 360 / Xbox One
Genre: Action, Äventyr
Utvecklare: Beenox
Utgivare: Activision
Antal spelare: 1
Åldersgräns: Från 16 år
Premiär: 16 maj 2014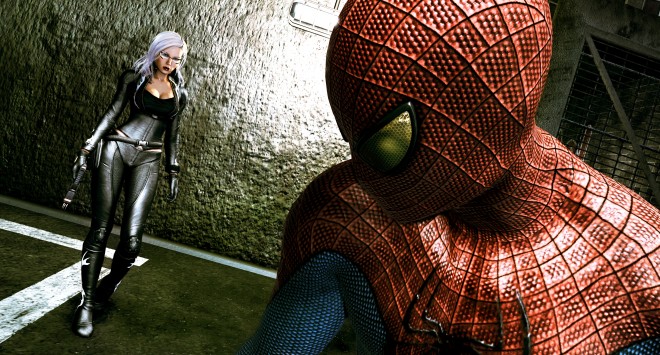 The Amazing Spiderman 2 spelet har faktiskt inte så mycket att göra med filmen, det är andra karaktärer och en helt annan handling. Jag kastar mig in i spelet och får fort en flashback där man visar vad som har hänt och att Ben (Peter Parkers farbror) har blivit mördad. Det första jag får göra är att försöka lokalisera mördaren och vips så är jag inne i spelet.
Spelet är inte så långt som jag trodde, klarade av det på ca 6 timmar, men måste erkänna att 30 minuter gick bara på att svinga runt i staden som en fri ängel. Det är en av höjdpunkterna i spelet, atmosfären är härlig och man vill helst bara glida runt och göra vad man vill, även om det senare blir lite långtråkigt och enformigt.
Tyvärr måste jag säga att spelet inte levererar på många plan, först i grafiken… jag menar det är bra grafik om det hade vart till ps3:an men till ps4:an hade jag förväntat mig något helt annat, sen är storyn väldigt tunn. Fienderna i spelet är också jätte korkade och slagsmålen kändes efter ett tag för repetitiva, tyvärr enformigt det också.
Men är man trogen Spidermanfan kommer man uppskatta världen och kanske då kan man ge den en chans. Jag blev inte impad men hade några roliga moment ändå.
Betyg: 5/10
+ Skön atmosfär, kul att svinga runt.
– Handlingen, fienderna är för korkade, tråkig fight system, långa laddningstider.