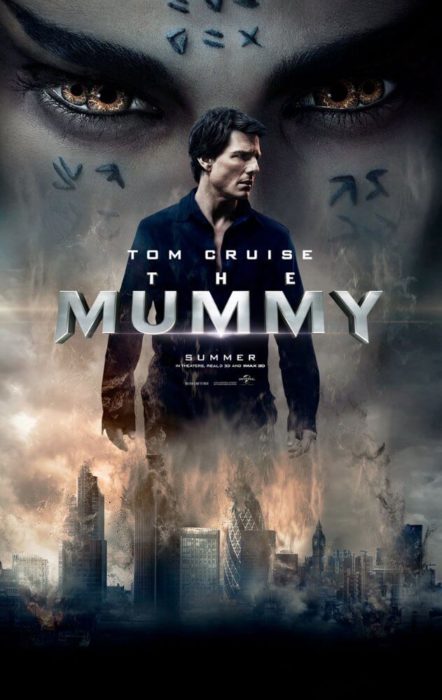 Director; Alex Kurtzman
Adventure/Fantasy
1h 50 minutes
Swedish premiere; TODAY, June 9th!
Review: by Beauty Martinez
Thursday, was the Swedish press screening of The Mummy at the beautiful theater Rigoletto in the heart of the city. And, though I was looking forward to experiencing something parallel and epic, I got mediocre and mellow. I wouldn't call it a disappointment, it just simply didn't make the cut.
Though the visual was stunning, some scenes looked rather cheap, and certain characters were completely unnecessary, it just wasn't enough to satisfy my movie-loving-soul that had been waiting to see the always handsome Tom Cruise in another adventurism story, this time involving mummies, and some other non-human creatures.
It lacked excitement, barely any thrill as these genres are supposed to have, and the plot was quite dull.
Tom Cruise, a talented actor and though I am a fan of his, he didn't quite fit in here as a treasure hunter, he seemed out of place.
And though the script is supposed to be all about Sofia Boutella, of course, it ends up being a movie where Cruise gets beaten up most parts yet as always comes out without a single scratch nor bruises – too unrealistic.
She, being the main character as the actual MUMMY, was barely showcased as she should've been or deserved. No interesting powers whatsoever, and don't even get me started on Russell Crowe.
A character that was completely unnecessary to have along for the ride was actor Jake Johnson, and as much as I adored him in Let's Be Cops, he was just awfully placed here.
The acting and expressions were bad, lines, and attempt to throw some humor in ended up being painful.
Brendan Fraser had some sort of charisma and a sparkling smile that he automatically became more charming on screen, and humor became a natural ingredient of the movie as well as for his role. But here, they failed.
As this being an introduction, welcoming characters for the Dark Universe that Universal has planned for the future, bringing us cinematic experiences with some classic monsters, then I'm saddened to say that after this, they're off to a rocky beginning.
In overall, it's not a bad movie, might seem like it after this review, but it just wasn't what I wanted, or expected to see. Some scenes were beautifully made, Sofia Boutella as the ancient Princess was great, and it was entertaining for a once time commitment, but that's practically it. 5.6/10