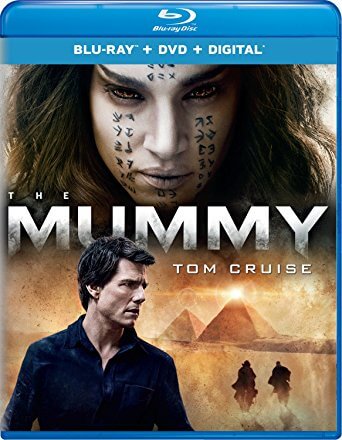 THE MUMMY (2017) Blu-ray
Director: Alex Kurtzman
Actors: Tom Cruise,  Sofia Boutella,  Annabelle Wallis
Action/Mystery, 110 minutes.
Distributor: Universal Pictures
Out on Bluray and Dvd now, you can order it here! 
"Though safely entombed in a crypt deep beneath the unforgiving desert, an ancient princess, whose destiny was unjustly taken from her, is awakened in our current day bringing with her malevolence grown over millennia, and terrors that defy human comprehension."
Another Tom Cruise movie and once again high expectations, from an actor as Tom Cruise who never releases mediocre movies, to once again deliver and entertain. Don't feel pressure Tom…
The Mummy is a reboot of the fun and awesome movie with Brendan Fraiser that was released back in 1999, I really loved that movie, but I was 14 years old then.
This was nothing like that movie at all, didn't know if it was suppose to be a horror movie, an adventure movie or a comedy… it wasn't exactly clear because it really never felt like it had a strong story. It just had a little of those ingredients here and there and the whole movie felt… flat.
Yes, by this time you can tell that I was a bit disappointed, because Tom always deliver an awesome experience for his audience and to see him kind of fail this time… well makes me wonder why he accepted a movie like this. A movie that has created its own cinematic multiverse… yes there will be more monster movies ahead and that will connect to this one and there will be sequels. I just hope they will succeed much better.
It may be that I felt this way because I have such high expectations from Tom Cruise even before I know about the movie and before seeing any trailer of it. But I'm sure he's used to it… maybe he just wanted to try something new.
I wont say this movie is horrible, its okay but far from what Tom is known to deliver.
RATING: 5/10
Extras:

Deleted & extended scenes
Cruise & Kurtzman: A conversation
Rooted in reaity
Life in zero-g: creating the plane crash
Meet Ahmanet
Cruise in action
Becoming Jekyll and Hyde
Choreographed chaos
Nick Morton: In search of a soul
Ahmanet reborn animated
Graphic novel
Feature commentary