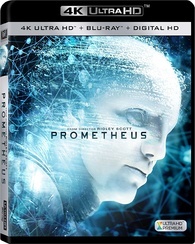 PROMETHEUS (2012) 4K UHD!
Director: Ridley Scott
Actors: Noomi Rapace,  Logan Marshall-Green,  Michael Fassbender
Sci-fi/Mysteri, 124 minutes.
Distributor: 2oth Century Fox
Out on Bluray and Dvd now, you can order it here!
"This film is set in 2093 and takes place in the same universe as the 'Alien' movies. A group of explorers, including some archaeologists, are on an "undisclosed" mission. They arrive at a moon trillions of miles away from Earth. The team spot what they believe to be signs of civilization. They go to investigate and find more than just signs, they find conclusive evidence. But some of them have an ulterior motive for being there, including the Weyland Corporation. They believe that this is where the human race actually came from. Things soon turn from excitement to survival once inside their discovery."
I've really missed these type of Sci-Fi movies, they are not made very often, and when they are made they are not very good. Thank god director Ridley Scott exists! Prometheus is a movie from 2012 though that recently had a 4K update and it looks absolutely gorgeous!
Prometheus is a very good movie that has gotten a lot of mixed reviews, and I can't really understand why… I get that its not as the old Alien movies where the focus is more on the action, but I think it's almost better!
The focus here is on the mystery and on the story with a twisted end and I love it!
The pace is kind of slow yes, but I was always locked into the story and wanted to know more about what was going to happen next and to get answers, which you eventually will get. This is a true Sci-fi movie that I really enjoyed watching and a great start of a new Alien trilogy with another type of focus this time around, and If you can accept that then I believe you will find this movie quite enjoyable!
The 4K upgrade is quite noticeable, the dark areas have a better black level to them while the bright areas are more clearer. The sharpness of picture is better as well.
Overall a very great upgrade to a very good movie ;) If you haven't seen Prometheus yet I recommend that you do, and while you're at it, watch the 4K version to experience the best version out there!
4K and Bluray Comparisons.
The biggest difference between 4K Ultra HD and traditional Blu-ray is that the former supports resolutions up to 3840 x 2160 (4K), while the latter caps out at 1920 x 1080 (1080p). 4K is four times better than Blu ray. HDR is also available in 4K UHD… HDR expands the range of both contrast and color significantly. Bright parts of the image can get much brighter, so the image seems to have more "depth." Colors get expanded to show more bright blues, greens, reds and everything in between.
RATING: 8/10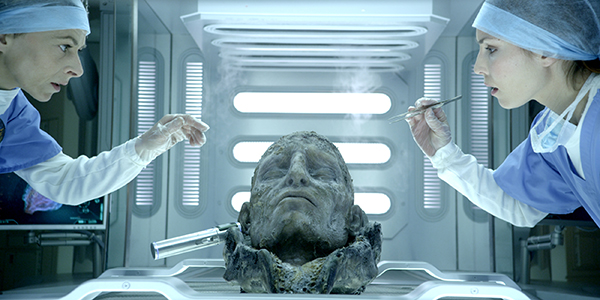 Extra:

2 Audio Commentaries by Director/Producer Ridley Scott and by Writers Jon Spaihts and Damon Lindelof
The Peter Weyland Files
Deleted and Alternate Scenes — Including
Alternate Beginning and Ending