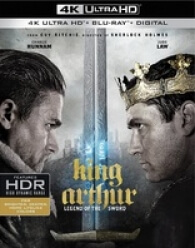 KING ARTHUR (2017) 4K UHD!
Director: Guy Ritchie
Actors: Charlie Hunnam,  Astrid Bergès-Frisbey,  Jude Law
Action/Adventure, 126 minutes.
Distributor: Warner Bros
Out on 4K UDH, Bluray and Dvd now, you can order it here!
"Acclaimed filmmaker Guy Ritchie brings his dynamic style to the epic fantasy action adventure "King Arthur: Legend of the Sword." Starring Charlie Hunnam in the title role, the film is an iconoclastic take on the classic Excalibur myth, tracing Arthur's journey from the streets to the throne. When the child Arthur's father is murdered, Vortigern (Jude Law), Arthur's uncle, seizes the crown. Robbed of his birthright and with no idea who he truly is, Arthur comes up the hard way in the back alleys of the city. But once he pulls the sword from the stone, his life is turned upside down and he is forced to acknowledge his true legacy…whether he likes it or not."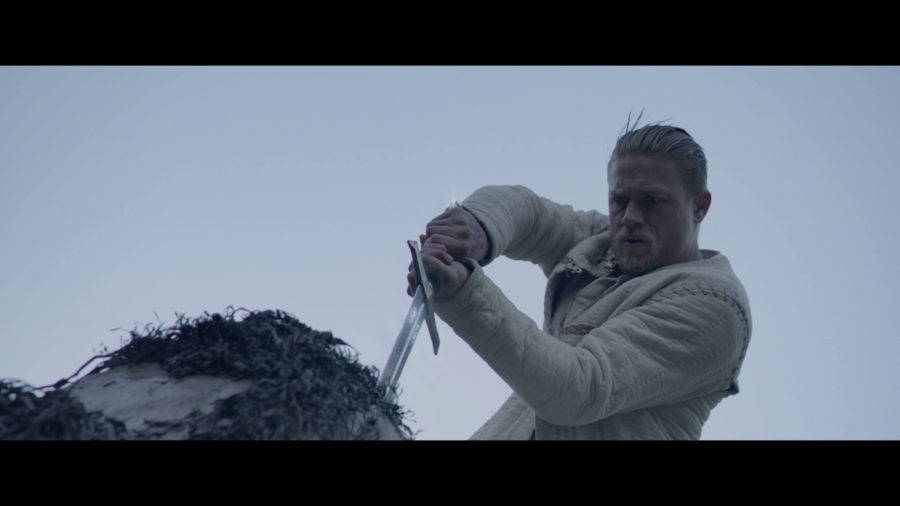 Guy Ritchie is back, the director of Snatch & Lock, Stock and two smoking barrels, with a different type of movie from what he is used to direct, KING ARTHUR Legend of the Sword.
This movie was actually better than i thought it would be, and I say that because the trailer didn't convince me that much. It looked like it had to much fantasy, and that it had gone crazy with the regular King Arthur stories… and nothing like a movie Guy Ritchie would have direct. But I admit… I judge it to early, something I rarely do.
The movie was very entertaining and had that Guy Ritchie formula in it, his signature sort of speak… from the opening scene to the cinematography and the editing. King Arthur has a great cast, but don't expect some oscar winning performances, we get to see Charlie Hunnam (Sons of Anarchy), Jude Law (A.I, Road to Perdition) and while the actors are great they don't shines as much as they would have in other stand alone movies. They do their part and they do it good. Would have wished Jude Law was a bit more raw as the villain…
There is a lot that had to fit in the 2 hour long movie and that makes the pace of the movie very fast, it could have easily been 30 minutes longer. You will either like this movie or not at all, but let me give you the opportunity to enjoy it, don't go in expecting a historical film… it's pure fantasy with some old King Arthur ingredients.
If your mind is set on that and if you like Guy Ritchie's way of filming you will be entertained ;)
Another great 4K release. The brightness levels are very good, has deeper and darker shadows. Armors and Clothes are incredibly detailed, the picture is very sharp. There isn't many flaws on the picture quality except that it might feel to grey and pale on the saturation… but the movie is made that way to make you feel you are in that era. So nothing to complain here. Its even shot entirely with Arri Alexa camera systems, which maxes at 3.4K resolution ;)
Overall, a great enjoyable movie, especially if you are a Guy Ritchie fan.
RATING: 6,5/10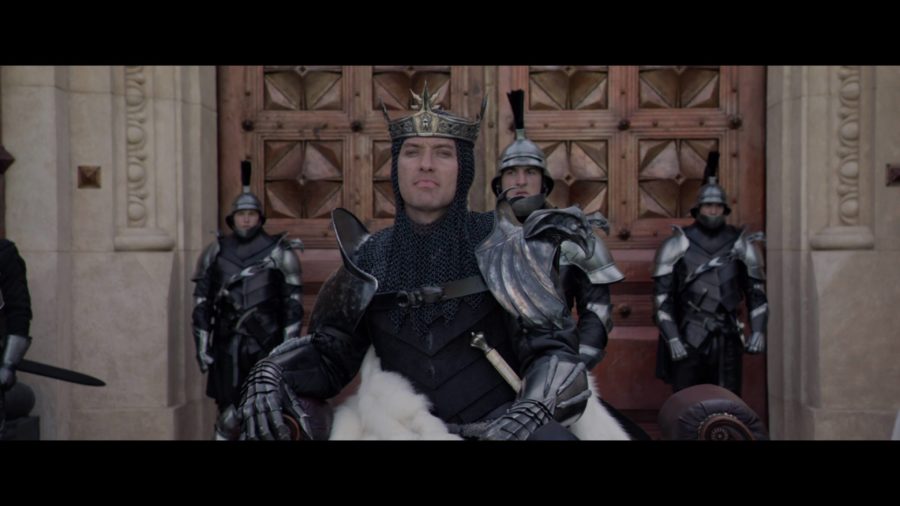 Extras:

Arthur With Swagger – Charlie Hunnam is a gentleman, a hunk and a rebel. 
Sword from the Stone – Go on set with director Guy Ritchie as he breathes new life and luster into England's most iconic legend!
Parry and Bleed – Charlie Hunnam and other cast members get a crash course in swordplay. 
Building on the Past – Watch the creation of medieval urban life as Londinium is built from the ground up.
And More!
4K and Bluray Comparisons.
The biggest difference between 4K Ultra HD and traditional Blu-ray is that the former supports resolutions up to 3840 x 2160 (4K), while the latter caps out at 1920 x 1080 (1080p). 4K is four times better than Blu ray. HDR is also available in 4K UHD… HDR expands the range of both contrast and color significantly. Bright parts of the image can get much brighter, so the image seems to have more "depth." Colors get expanded to show more bright blues, greens, reds and everything in between.