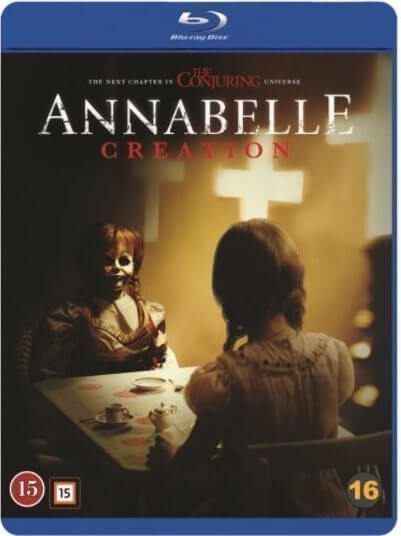 ANNABELLE 2 CREATION (2017) Blu-ray
Director: David F. Sandberg
Actors: Anthony LaPaglia, Samara Lee, Miranda Otto
Horror/Mystery, 109 minutes.
Distributor: Warner Bros
Out on Bluray and Dvd now, you can order it here! 
"The manufacturer of dolls Samuel Mullins is a happy family man with his wife Esther and their daughter Bee, who dies hit by a car. Twelve years later, Samuel welcomes a group of orphan girls and a nun from a closed orphanage at home. He tells that only a closed room (that belonged to Bee) and Esther's room would be off limits for the girls. The crippled girl Janice sneaks in Bee's room during the night and sees a doll inside a closet. She plays in the room and soon she is haunted by an evil force. What has Janice unleashed in Bee's room?"
A great sequel that tells the origin of Annabelle the haunted doll. Made me hide behind my sofa pillow many times haha.
Yeah, there are a lot of scare jumps in the movie but there is also that horror you feel building up inside of you through some very quiet but suspenseful scenes. The kids are good actors, but nothing special there, however they did good performances and thats what counts.
Annabelle does what it sets out to do and that is to scare the hell out of you so I can nothing but recommend this movie to all horror fans.
SCORE: 7/10
Extras:

THE CONJURING UNIVERSE Go deeper into The Conjuring universe and get a sneak peek at the upcoming film The Nun
HORROR SHORTS: ATTIC PANIC AND COFFER Two short films that inspired Annabelle: Creation
DELETED SCENES FEATURETTE DIRECTOR'S COMMENTARY And more!