Såg idag att Discshop.se tillsammans med Bloggportalen.se hade en tävling där man har chans att vinna fina priser, självklart vill jag vara med och tävla. Det jag behöver göra är att blogga om en av deras produkter som intresserar mig, och jag hittade den perfekta produkten! Så jag hoppas att alla kan jag känner och alla som gillar vår blogg hjälper mig, klicka på länken under för att rösta på mig! =) Tack!

Tävlingen pågår till och med den 19 november 2013 som är sista dagen.

Alla som följt bloggen vet att jag älskar och samlar på Limited Editions, därför var detta riktigt kul att rekommendera. Online butiken Discshop.se är riktigt bra på att ta in dessa limiterade utgåvor, och dom har blivit bättre sista tiden. Det kommer nämligen snart en utgåva som är hur grym som helst och som innehåller alla X-MEN och Wolverine filmerna som släppts hittills. THE WOLVERINE CLAW limited edition. Gissa vart den nu kan förbokas hos, yes… hos Discshop!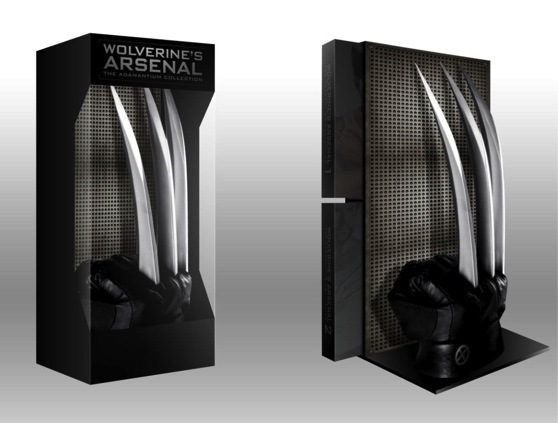 Sverige är inte ett land som tar in mycket sånt här, kanske tror vi att efterfrågan i detta land inte är så stor? Nu pratar jag om limiterade utgåvor i film. Inte vet jag, men jag känner jätte många som vill ha dessa produkter…
Det är vackert, det är stort värde i det och det snyggar till filmsamlingen rejält!
Jag är superglad att Discshop.se börjar inse detta och börjar ta in mycket mer av det här, jag hoppas och tror att försäljningen kommer att öka så fort folk börjar se att det finns några butiker som äntligen börjar ta in dessa produkter. Tack som fan Discshop!
Se nu till att ta in mycket av detta och om ni börjar leverera utomlands av dessa produkter så kan jag nästan garantera er att ni kommer sälja slut på dom direkt!
Är medlem i ett amerikansk filmforum där folk från hela världen samlas och rekommenderar länkar där sånt här finns tillgängligt att köpa.
;) så lycka till!
The Wolverine Claw limited edition finns att beställas från Discshop.se HÄR!
Här har ni några fina bilder också på utgåvan som fotades live från Comic Con mässan i år!